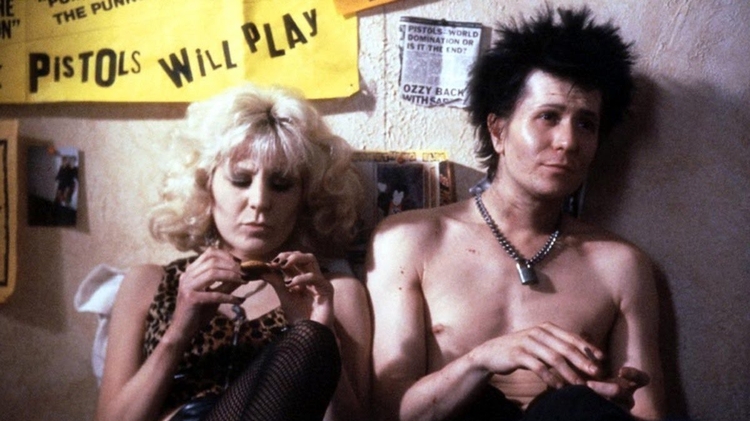 UK Premiere: Sid and Nancy
classified

18
Cinema Rediscovered 2016
Film
Please note: This was screened in July 2016
Director

Alex Cox

Cast

Gary Oldman, Chloe Webb, David Hayman

Details

114 mins, 1986, UK
Celebrate 40 years of punk with the UK premiere of this reissue of Alex Cox's (Repo Man) seminal 1986 biopic Sid and Nancy, starring an eerily brilliant Gary Oldman in one of his most acclaimed and definitive roles. Oldman plays Sid Vicious, bass guitarist of the Sex Pistols, with Chloe Webb as his girlfriend Nancy Spungen - together, an ill-fated King and Queen of alternative rock.
It's 1978, Sid is arrested in the Chelsea Hotel in Manhattan following Nancy's sudden, tragic death. Dragged to a police station and questioned, he flashes back to how he first met her, an eager American groupie who came to London determined to seduce one of the band. Falling deeply in love, their mutually destructive, heroin-fuelled relationship tests Sid's relations with the rest of the Pistols and ultimately leads to a terrible night in the Chelsea - the exact nature of which is still disputed.
One of the first films from legendary cinematographer Roger Deakins (Sicario, No Country for Old Men, Skyfall) and featuring music by Joe Strummer and The Pogues; full of sound and fury, Cox's film has become a cult classic since its release. Not only a barnstorming portrait of a defiant generation and its music but also a touching love story, elevated further by Oldman and Webb's outstanding performances. Come and celebrate this surprisingly poignant warts and all love story.
Presented on DCP, a re-issue by The Independent Cinema Office in partnership with StudioCanal.
---