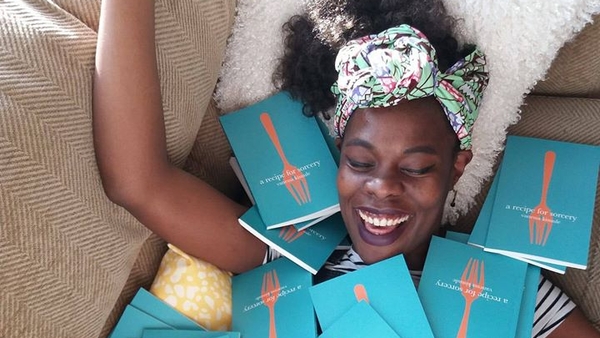 Raise The Bar - Vanessa Kisuule 'A Recipe for Sorcery' Book Launch
Sold Out
Event
Please note: This event took place in Jan 2018
Details:

120 mins
"If I had to choose only one poet to go and watch live, it would be Vanessa Kisuule. She is the main poet I read and think: Fuck! I wish I had written that." – Hollie McNish
Raise the Bar is back at Watershed for the new year and kicking off in style! We're extremely excited to present Vanessa Kisuule's book launch of her brand new collection 'A Recipe For Sorcery', with support from the outstanding Hollie McNish, Ngaio Aniya, Esme Worrall and other guest poets.
It's gonna be a Vanessa takeover of sorts, so in true fashion we're handing over the event bio too. Over to you, Vanessa…
It's Vanessa Kisuule here, the poet and person. I am having a humble little thing to celebrate the release of my next collection A Recipe For Sorcery. It's gonna be pretty chill.
SIKE.
R U KIDDING.
IT'S A MASSIVE DEAL OH-VEE-YUS-LEEEE.
Gird your loins, folks. This is the launch party to end all launch parties. Oh, and place a vatful of emphasis on the word PARTY cos a staid reading of poems accompanied by some warm Sauvignon and stale Kettle Chips this ain't. This night is gonna be a raging, pulsing, silly, obnoxious, loud, crass, sexy night of antics that truly represents everything I love about life, poetry and women.
Please note: this collection is inspired by all the incredible women I know, have known and will come to know. Everyone of all walks and genders is welcome, but I'd so love for all you women and women of colour to come and truly make the place your own - wear whatever you're comfortable in but please take the opportunity to dress the f-k up if that's your bag.
That floor length gown you've never had an occasion for? Those beautiful heels you can't really walk in? (You'll be sitting down for the most of the eve, anyway) That shirt/lipstick/corset/PCV lederhosen you love but are scared is a bit loud? WEAR IT, MY UNICORN FRIEND. This night is the night. And what a night it will be. Here's the line up:
I'll be having a support slot from some poet called HOLLIE MCNISH. She's only one of the most sought after and viral poets in the country (and one of the nicest, coolest, smartest humans ever) How I managed to finesse a support slot from such a huge star, I don't know. Let's not look a gift horse in the mouth!
NGAIO ANIYA is a multi gifted goddess who wears many hats but on this night she'll be on the decks DJing with some incredible tunes from an exclusively female artist playlist. Tailfeathers will be shook and they'll be shook HARD.
I'll also be bringing extra special guest ESME WORRALL on stage with me to perform an exclusive pole art piece because that's how rock 'n' roll we are out here. Esme is amazing - she's a burlesque and pole artist who performs in strip clubs and festivals and has campaigned heavily against the closing down of strip club establishments in Bristol. She's a bad ass, sex positive feminist force of nature and I love her.
Then there'll be yours truly delivering some poems from the new collection. Expect laughs, expect words and definitely expect costume changes.
I don't hope to see you there. I KNOW I'll see you there.
---