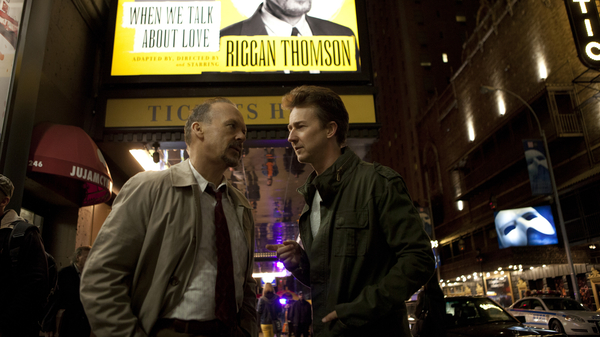 Birdman 15
All the Stage's a World
Film
Please note: This was screened in Jan 2019
Director:

Alejandro G. Iñárritu

Cast:

Michael Keaton, Zach Galifianakis, Edward Norton

Duration:

120 mins, 2014, USA

Primary language:

English
"Birdman gives us a glimpse into a very different sort theatre to the one that I work in. I find it fascinating! The score and the single-shot cinematography perfectly capture the mounting pressure of opening night - a feeling I know all too well" - Emma Rice, Artistic Director, Wise Children
Michael Keaton gives a career-defining performance in Alejandro González Iñárritu's absurdly hysterical backstage melodrama about a washed up actor looking to get his career flying again.
Keaton (best remembered, of course, for his role as caped crusader Batman) stars as Riggan Thompson, a vain, ageing celeb whose own successful days as star of superhero franchise Birdman are well behind him. In an effort to be taken seriously as an actor Riggan has grand plans for redemption via a staging of his own Broadway production of a Raymond Carver short story. But his mind is slowly beginning to unravel under the pressure and never ending conflicts with his supporting cast - a scene-hogging narcissist (Edward Norton), a vulnerable actress (Naomi Watts), an unhinged girlfriend (Andrea Riseborough) and a resentful daughter (Emma Stone) - not to mention his own ego, the inner demon of the character that made him famous, Birdman himself.
An extravagant dream of a movie, audaciously playing out as one continuous shot, this hilarious and moving film, powered by a deep affection for acting, theatre and Broadway, delivers at one fell swoop a surprising satire of modern celebrity culture and Hollywood's obsession with all things superhero.
---