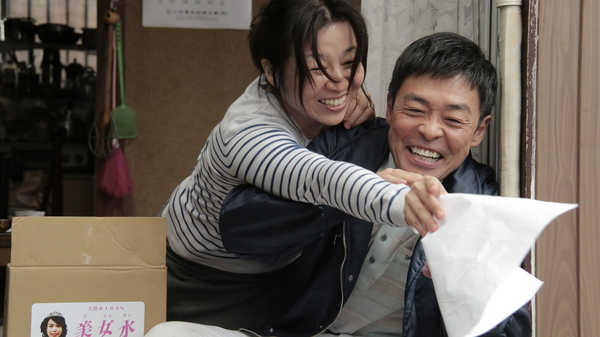 Three Stories of Love 15
S
Japan Foundation Touring Film Programme 2019
Film
Please note: This was screened in Feb 2019
Director:

Ryosuke Hashiguchi

Cast:

Tamae Andô, Lily Franky, Ryô Ikeda

Duration:

140 mins, Subtitled, 2015, Japan

Primary language:

Japanese
Internationally acclaimed director Ryosuke Hashiguchi tells three very different love stories in this poignant film that shows the quiet desperation of real-life love.
Unglamorous housewife Toko (Takahashi) is trapped in an exploitative relationship with an indifferent husband and a high-handed mother-in-law. Nothing seems enough to fill the enormous void in her life – until she meets a charming man who promises her not the moon, but a chicken farm.
Angst-ridden Atsushi (Shinohara) has an acute intuition that makes him a talented young bridge inspector – but ever since his wife was murdered three years before, he has been overwhelmed by grief and obsessed with fantasies of revenge.
Shinomiya (Ryo Ikeda) is a gay lawyer with a sardonic grin, a huge ego, and a younger lover who he treats like dirt. As his life begins to fall apart, he finds refuge with a school friend he once loved who now has a wife and child.
An under-appreciated housewife, a depressed widower, and a gay lawyer. This raw and realistic film beautifully shows what love can be to different people – and how, in the end, it is up to the individual to find their own happiness.
In celebration of the Japanese Foundation Touring Film Programme, throughout February get 10% off when you spend £15.00 or more per person per cinema ticket from the a la carte menu at Izakaya Bristol. Just show your ticket before you order!
---