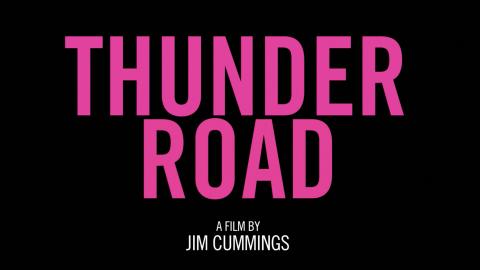 Preview: Thunder Road + Director Q&A
classified 15
Film
Please note: This was screened in May 2019
Director:

Jim Cummings

Cast:

Jim Cummings, Kendal Farr, Nican Robinson

Details:

91 mins, 2018, USA

Primary language:

English
Jim Cummings writes, directs and stars as an emotionally unstable cop in this darkly funny mix of comedy and tragedy, winner of the Grand Jury Prize at SXSW.
The film opens with an extraordinary single-shot 12 minute sequence where we see Texan police officer Jim Arnaud (Cummings) struggling to give a eulogy at his mother's funeral. He's a mess - fiddling with the batteries in his daughter's pink boombox as he attempts to play Springsteen and honour his mother's memory - and nothing goes as planned. From there we discover he's also going through a messy divorce, his daughter is getting in trouble at school, and his awful mix of grief, anger and despair has him on the cusp of a nervous breakdown...
Deftly shifting in tone from the comic to the profound, this is a rare examination of grief told through the eyes of a deeply flawed, vulnerable man. In the words of one critic: "I have seen humanistic American filmmaking's future, and its name is Jim Cummings".
Director, writer and star Jim Cummings will join us for a Q&A after this special preview screening.
---