A time lapse video of a new mural being installed in Pervasive Media Studio, Watershed, 2017
Playable City showreel
Playable City puts people and play at the heart of the future city, re-using city infrastructure and re-appropriating smart city technologies to create connections – person to person, person to city.
The Last Blues Song of a Lost Afronaut
An immersive theatre piece, developed as part of our 2016 Artist in Residence programme, in which protagonist Afronaut Femi travels through space in search of life on other planets.
Europa Cinema Entrepreneur of the Year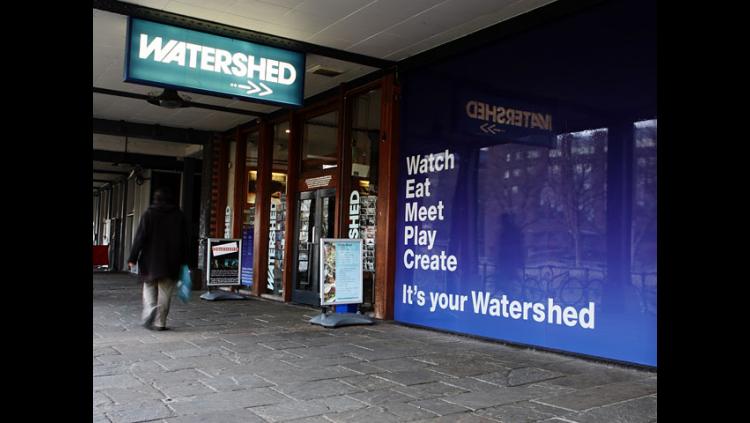 In November 2010 Watershed, selected from among 1000 cinemas across 500 European cities, was awarded a major international prize by Europa Cinemas naming Watershed as 'Entrepreneur of the Year'.
Podcast
April 2018 Watershed Podcast
April's podcast offers a sonic guided tour to the soundtracks of this month's upcoming film season, The Sound of Sci-fi.
March 2018 Watershed Podcast
At the start of Filmic 2018 – Watershed's annual exploration of the creative connections between film and music – this months podcast looks at some of the films coming up and the central role that music plays in film.
February 2018 Watershed Podcast
This month's season of films on 35mm film, from director Paul Thomas Anderson, leads Watershed cinema curator Mark Cosgrove to reflect on his own personal experiences of the film industry.
Talks
Unplayable Cities: Miguel Sicart
Teacher of play, author and academic Miguel Sicart considers what make an unplayable city and proposes an alternative understanding of the role of play in modern urban living.
Daphne: Directors Q&A
Director Peter Mackie Burns discusses Daphne, his striking drama which follows the life of an early-thirties Londoner who goes off the rails after witnessing a random act of violence.
Philip French Annual Memorial Lecture 2017: Mark Kermode
The Philip French Annual Memorial Lecture sees a key figure in the film world reflect on the qualities film critic French stood for, to examine current developments in film culture and the role of film critics today. 2017's lecture was given by writer and broadcaster Mark Kermode.