News
An away day with a conscience...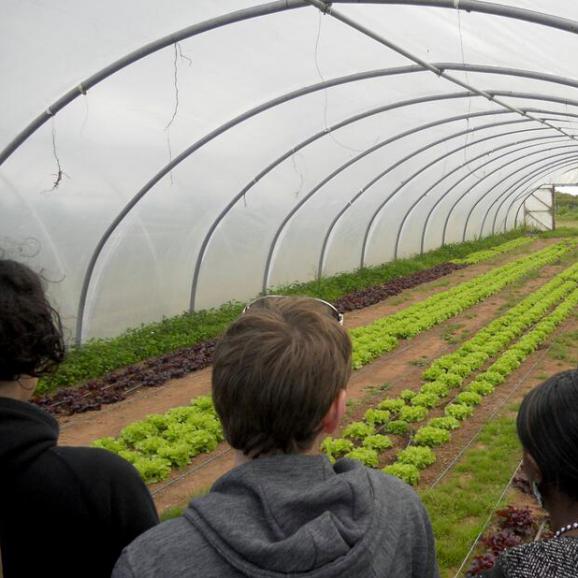 Here at Watershed we are open the entire year (apart from Christmas Day and New Year!), so it's incredibly rare that all the staff get the opportunity to spend some time together. We believe that it's really important to do which is why we closed the building a couple of weeks ago for a Staff Training Day. Following time well spent on a field trip to meet and hear from two of our brilliant local suppliers some of the fruits (or rather, the vegetables) of our Kitchen team's learning from the day are now ready for you to pick this weekend.
The Staff Training Day gave our Executive Chef Oliver Pratt the opportunity to share our ethical, sustainable Plot to Plate ethos with the wider Kitchen team and introduce them to our friends at the Community Farm and Kidners Organic.
Their field trip started with an early visit to Bristol Fruit and Vegetable Market just off the Bath Road, where the team met up with Mark Kidner, head of Kidners Organic. Mark explained the background of the market, a vital lifeline for places like Watershed, showing the different produce available (including the very first New Jersey royal potatoes and Cheddar strawberries, all from less than 20 miles down the road) and talked through the provenance of each.
At this point in the day the team were given a challenge: get into pairs made up of Chefs and Kitchen Porters, to identify five seasonal products and create and produce a vegan-friendly dish with the aim to put them on the menu in Café/Bar. These pairings brought people together from different cultures, so they had an additional challenge to bring out their cultural influences in their final dishes (see below).
Next up it was a short trip to The Community Farm to meet with head farmer Andy Dibben, who showed the team around his 22 acre organic vegetable farm in the beautiful Chew Valley. Andy demonstrated how planning is essential in order to meet restaurant demand, how the weather has a huge impact on them, and how the land is an abundant place for wildlife because they don't use harmful chemicals.
After their day of inspiration the teams rose to the challenge they had been set, coming up with a diverse selection of seasonal vegan dishes including broadbean socca (a chickpea pancake - pictured), Thai Green vegetable curry, stuffed peppers with Jamaican rice and peas, vegetable Rogan Josh, Ginger and soy, lime vegetable stir-fry and a courgette grille stuffed with mushrooms and chickpeas. We asked some of our regular vegan customers to undertake the tough job of tasting them all and selecting two to go on sale in the Café/Bar this weekend (Sat 24 and Sun 25 May) as part of National Vegetarian Week.
Oliver said:
"I have been blown away by the effort and energy put into each of these dishes. The socca and the stuffed peppers will be on the specials list this weekend, but everything was just so well thought through and delicious I'm pleased to say that as part of Big Green Week we'll be putting them all on rotation the week commencing Mon 16 June, so now everyone can get a chance to sample the team's tasty creations! I've even been looking for a couple of vegan wines to match the dishes."
Some of the team were so inspired by the day that they have volunteered to get a more first hand experience of farm life. Gary, one of our Kitchen Porters, said:
"I learned that there is so much more to getting fruit and vegetables 'from Plot to Plate' than meets the eye. I was surprised by how much planning was needed to consistently grow food organically and how challenging this could sometimes be, but how worthwhile it was too. It sustains local wildlife and the economy and, most importantly, it tastes better!"
Gary and Chris' dish - the chickpea socca - will be on sale this weekend as will Andrea & Lily's dish: stuffed pepper with rice and peas, jamaican coleslaw, with aubergine and cumin puree. During Big Green Week, which we are also celebrating with a season of films from Sun 1 - Sun 11 June we will be serving up all of the above dishes that were created during the away day.
If the thought of all of these vegan specials hasn't made you hungry enough, then be sure to follow Oliver on Twitter @OliverJSPratt - but make sure you've eaten first! He's recently joined and keeps on teasing us all with great photos of food, some of which he's testing out for the Café/Bar, so do let him know your thoughts and comments and maybe, just maybe, he'll invite you in for a little taster...