News
Julie's Bicycle Environmental Data Lab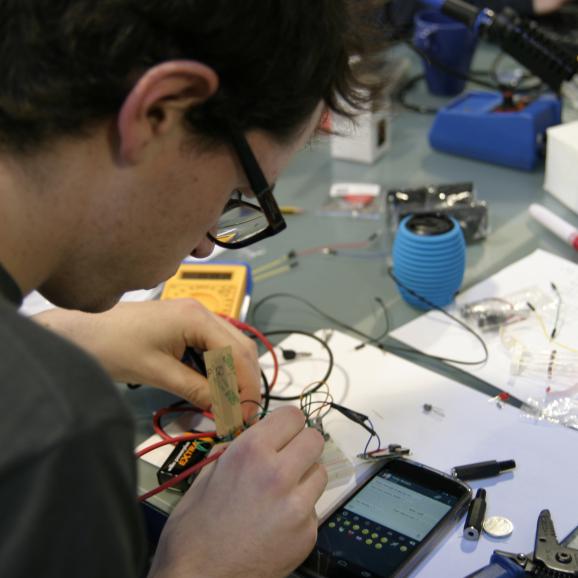 This autumn, we are delighted to be partnering with the nice folk at Julie's Bicycle to host a two-day Environmental Data Lab at the Pervasive Media Studio, and right now we are looking for creative practitioners to take part.
Julie's Bicycle aim to make sustainability intrinsic to the creative industries. Founded by the music industry, with expertise from the arts and the green community, they work to bridge the gap between the creative industries and sustainability.
About the Lab
As the world gets ever more connected, we are surrounded by devices, networks and infrastructure which carry data about the buildings and places in which we live and work. But whilst we collect data on everything from energy consumption to weather predictions, this data often feels abstract and inscrutable. Would we feel and act differently if it was made more tangible, more accessible? Would it help us to understand and trace our own environmental impact if we could interact with the data in more human-centred ways? The cultural sector has a real opportunity to connect with other disciplines to make interventions which explore the value, meaning and potential of environmental data and what we do with it.
The two-day Lab aims to make the 'invisible' environmental data around us visible by bringing together a diverse community of artists, technologists, data analysts and designers, to explore how environmental data might be visualised and made tangible in creative ways to increase public engagement and data literacy, and inspire long-term behaviour change.
Focusing on the environmental data that Julie's Bicycle collects both from cultural organisations and our immediate surroundings the exploratory Lab will run at the Pervasive Media Studio on Tue 7 and Wed 8 Oct.
Get involved
We're now inviting creative individuals and/or cultural organisations who would like to explore the opportunities inherent in environmental data sets to apply to participate in this Lab. The deadline to apply is Mon 1 Sept. Find out more information and download an application pack.
What is the PM Studio?
The Pervasive Media Studio is our city-centre research studio that brings together artists, technologists and academics to collaborate on research.