News
No Boundaries 2015 now on sale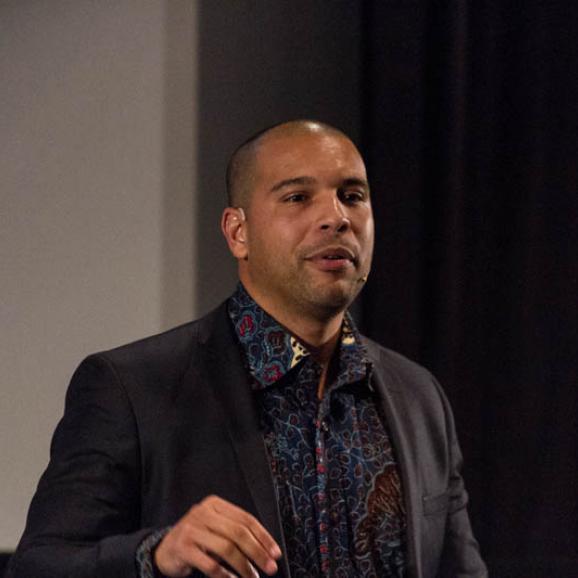 We are delighted to announce that delegate passes are now on sale for the second No Boundaries, the arts and culture industry's annual conference presenting questions and challenging new ideas on the role of arts and culture.
The conference takes place Tue 29 and Wed 30 Sept here at Watershed and also at brand new international arts venue, HOME Manchester. No Boundaries is part of Arts Council England's State Of The Arts thought leadership programme and will seek to find positive approaches to influence change and support the sector's growth in a world where there is a new normal every week.
"If people who run theatres think their competition is other theatres, I want some of what they're smoking..."
Russell Willis Taylor, National Arts Strategies at NB2014
In addition to the delegate passes, applications for bursaries are also open, with 40 free spaces being made available via a ballot system, prioritised for early career/emerging artists.
Sir Peter Bazalgette, Chair, Arts Council England says,
"Last year's conference was a huge success and we look forward to a similar meeting of minds in September - something which will be even more important given that by then we will have had a general election and a spending review so the arts and culture landscape may have changed. The State of the Arts events are great platforms to encourage creative thinking and to stimulate debate."
Graham Sheffield CBE, Director Arts British Council says,
"We are pleased to be working with our partners Arts Council England, Watershed and HOME to bring No Boundaries back in 2015. We were delighted that the conference reached many across the world and included speakers from Kenya, New Zealand and the US among others in 2014. It is ever more important that the UK and international cultural sectors work together in partnership to make an increased positive impact in international relations and understanding. We look forward once again to lively and inspiring debate."
Director and CEO of HOME Manchester Dave Moutrey, says,
"We are delighted to be teaming up with Watershed, Arts Council England and British Council to produce No Boundaries 2015. Part of the joy of our new HOME is the opportunity to test new ideas, create new experiences and collaborations and break down the boundaries between art forms. We aim to challenge and question with all our work, so it's fitting that our first major symposium is so in tune with our ambitions."
Watershed Managing Director Dick Penny says,  
"We are excited to be working on No Boundaries again, this time alongside new partner HOME, as well as Pilot Theatre and Bristol Festival of Ideas. We promise provocations and surprises as we debate the role of culture at the beginning of a new parliament."
Programme details will be announced over the coming months, so keep your eyes peeled!
No Boundaries 2015 is produced by a consortium of Arts organisations, Watershed, HOME (Manchester), Pilot Theatre (York), Festival of Ideas (Bristol), and is supported by Arts Council England and British Council, with sponsorship from TLT.