News
Rotting harmoniums, acts of God, golden zombies and robots that can draw...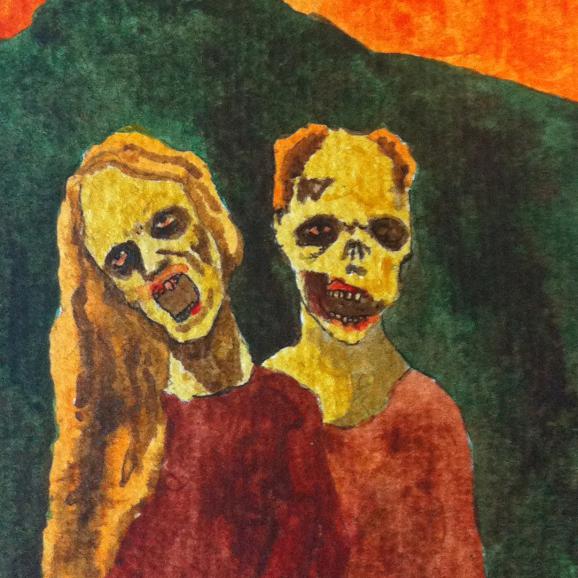 It's all happening in the current Studio Residencies, which are coming to a close at the end of January. Updates from the artists are available for you to explore and comment on and you can hear from the artists in person (and have a play with their projects!) at their concluding Artists Talk event on Thu 31 Jan.
Studio Residencies offer artists the rare chance to research projects at the intersection of art, technology and culture in the unique collaborative environment of Watershed's Pervasive Media Studio.
Artists Ben Sadler and Phil Duckworth of Juneau Projects are investigating the artistic possibilities of collaborating with 'thinking' machines - asking how technology can inform what they make, rather than just being a tool in the process - while writer, performer and composer Timothy X Atack and musician, sound artist and instrument designer MrUnderwood (who are collectively known as Geiger-Muller Sound System) are exploring how fiction, narrative and storytelling might augment a series of nifty homemade sound devices secreted in the built environment.
Both projects have progressed significantly since we last caught up with them. After realising that installing strings on the Grade II-listed Cabot Tower wasn't a very practical idea, Geiger-Muller Sound System have concluded that 'concrete is so yesterday', and boxes made of wood are definitely the way forward. To that end, they turned their focus towards an ancient church harmonium that is dying a very slow, rotten death in Timothy's back garden.
MrUnderwood explains how they plan to breathe new life into the sad old instrument; taking each individual reed, encasing them in new housing, in various cubes scattered around the country. They could be pumped to produce a single tone or, if you played two or more together at the same time, a chord. There are still questions, however, about battery power, circuits, playback source, metadata, and size...
Following an adventure in the Dings, recycling centre bureaucracy, welly gazing and a bit of B&Q badgering, Tim expands on a few problems they're encountering, namely the impossibility of dismantling the woodworm-infested harmonium in the terrible weather, the continued power problem, and the question of the location, presentation and operation of their units.
After a bit of tinkering, Tim and MrUnderwood built a mock up, and in a rare moment of sunshine, dismantled the harmonium after playing it one last time. "I wonder if these chords I'm playing will ever get the chance to form again," asks Tim, "half of the joy of this project is that even if they do, I might never know it."
In a December update, the pair, still getting a bit of grief from their electronic issues, reflected on their residency being 'plagued by acts of God', and ask what on earth will happen when their units are released into the wild: will people connect them to form chords? Maybe they'll be collected? How will they interact? And what discussions will be sparked?
You can help answer some of their questions (and ask them a few yourself!) at the Artists Talk, where you're invited to touch, play and discuss their prototype.
Throughout November Juneau Projects' Ben and Phil did a lot of research into how Artificial Intelligence might help them make artwork. They developed a virtual beetle that would scurry around inside your computer, gradually turning your photos into memes, and had a funny little chat with online chatbot Cleverbot, who suggested they paint a picture of zombies, dressed in gold, with robot clothes, entitled 'You'll never believe anything again'. Truly, this is the start of a beautiful friendship. An excerpt of this glorious collaboration is seen above and you can see the full version (plus robot clothes) here.
However, after striking up a new collaboration with fellow Studio Resident and Robotics Engineer Adam Spiers, they describe how their research has now been refined and focussed on the development of a bespoke robotic arm, one that is capable of taking some aesthetic decisions in the making of new artworks.
Ben and Phil had a great productive period around Christmas, working on getting the arm up and running complete with bespoke lasercut Perspex housing, and will be showcasing the final result at the Artists Talk. How will it look, how can you control it and what will it draw? Find out for yourself at the event.
All the artists will be here in person for the Artists Talk, where they'll share what they've been up to over the past few months and showcase the extraordinary work they've developed. I'm already wondering what creative decisions the robot arm is going to make, and how I can make the kinetic choir sing...