News
Sign of the Times: working with and for our Deaf and hard of hearing customers and audiences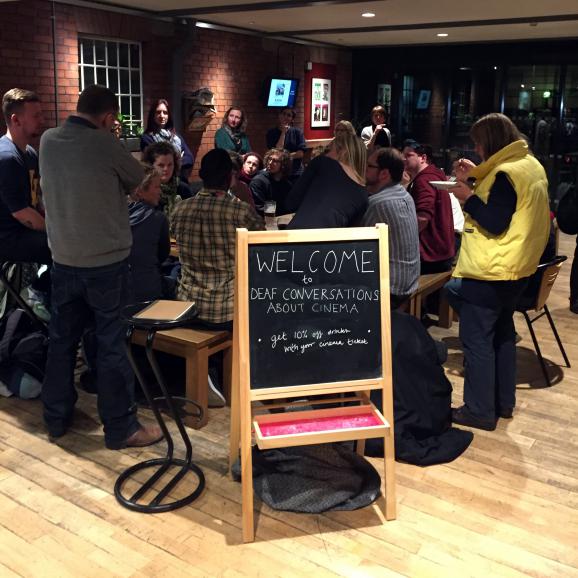 Here at Watershed we want to be as welcoming, inclusive and accessible as we can for everyone: for all of our customers, audiences, staff and visitors. We have been making some really positive changes recently for Deaf and hard of hearing people, proving that co-production, creativity, innovation and a little bit of practice can encourage diversity and increase participation.
Over the past six months we have been a participant on Arts Council England's Agent for Change programme, which sought to explore how arts organisations like us can be more inclusive.
We asked to be matched to an Agent who was Deaf to help us look at what we could do organisationally to be more inviting and more welcoming for the Deaf and hard of hearing.
We were delighted to be matched to David Ellington, a Deaf British Sign Language (BSL) user, filmmaker and artist from Bristol who has been working with us on several areas: from training staff in Deaf Awareness and basic BSL, to building accessibility into our ongoing cinema programme, to looking at our communications and the ways to reach this community.
David has done an amazing job and the response we have had from our Deaf and hard of hearing customers has been incredible. David's work with us is just the beginning and we are determined that it will have a real, long-term impact that will stretch far beyond the six months we've been privileged to spend with him so far.
We have introduced a monthly Deaf Conversations About Cinema event. This is a relaxed, informal opportunity for both Deaf/hard of hearing and hearing customers to come together to talk about a film in our programme (following a Descriptive Subtitled screening). On Mon 16 May at 18:00 we'll be showing the new Richard Linklater film Everbody Wants Some!!, and signing/chatting about it in the Café/Bar from 20.15.