Lunchtime Talk
Fri 12 Jan 2018 13:00
---
Blockchain for Sceptics
Fascinated by the debate surrounding digital currency Bitcoin and other blockchain-based systems such as Ethereum, Studio resident Tim Kindberg decided to take a sceptical look.
Speaker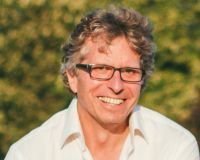 Tim Kindberg's research interests lie in applying ubiquitous and mobile computing technologies to new kinds of digital media platforms.
---
While there is technology at the heart of blockchain, it is deeply political and can only be understood in the additional light of economics and social theory. In this talk, Studio Resident Tim Kindberg will argue that blockchain does not meet its goals, and examine the evidence that 'mining' blockchain is a significant accelerator of climate change. Nonetheless, it is a genuinely innovative experiment and raises the question of what can be salvaged from it. Tim has written extensively about Blockchain on his blog, follow the link to read more, here: http://matter2media.com/blog/blockchain-paradox/.
This Lunchtime Talk is part of Open Studio Friday, which takes place at the Studio every week.
Do you want to find out what is going on at the Pervasive Media Studio? Are you interested in meeting our residents, talking about a specific project or curious about pervasive media? Why not pack a sandwich and join us for one of our Lunchtime Talks and Open Studio Friday. Lunchtime Talks are informal presentations by Studio residents and associates. They normally take place at 1pm on Friday, are free and open to everybody who's interested in what we do. After the Talk, we also invite you to stay with us for the afternoon to continue the conversation or work on your own projects. We provide chairs, tables, wireless and a great space. You bring what you need to work with (laptop/mobile). Our open afternoons close at 5pm. Let us know if you'd like a tour of the space and we'll be happy to show you around just before the talk. Send an email to:studio@watershed.co.uk to book your place on a tour.
---
Studio themes
---