Lunchtime Talk
Fri 23 Feb 2018 13:00
---
Are we in the weather or is the weather in us?
In this talk resident artist Aidan Moesby discusses his new project, 'I was naked, smelling of rain' . Aidan will be joined by his collaborator, psychiatrist David Cousins.
Speakers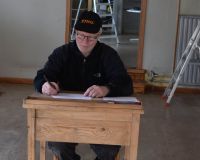 Conversations fuel Aidans' practice, which sits at the intersection of Art, Health and increasingly Technology. He is obsessed by weather - the real physical external and the psycho-emotional inner.
---
David is a consultant psychiatrist from Newcastle University, and is working with Aidan Moseby on his project "I was naked, smelling of rain".
---
Last year, Aidan Moesby undertook a residency with us here at the Pevasive Studio to spend some time investigating digital technology and how it might apply to, or  enhance his work. 
Aidan says:
"I am not  interested in it [technology] becoming or being my work - I'm old school - I still write letters.

My work is based around the dual the crisis in Mental Health and Climate Change. I am interested in how we use the language of weather to describe how we feel. Under the weather, a bit frosty, sunny personality, my heads a bit foggy. We have our own internal  psycho-emotional weather and it is as real as the external physical we experience everyday.

We mediate our life through technology and screens. Random conversations with strangers don't happen so often. Are we ever truly where we are? Loneliness is the equivalent of 15 cigarettes a day - loneliness is a silent epidemic."
In this lunchtime talk, Aidan and his collaborator on the project, psychiatrist David Cousins, will introduce us to a new project "I was naked, smelling of rain" that they are developing together. They are particularly interested in the impact of physical weather on our internal weather, drawing from the history of weather and forecasting and exploring the cultural canon of weather from art, literature, film. Aidan will use all of these influences to inform a series of responsive artworks. Join us for a conversation around technology, wellbeing and weather.
This Lunchtime Talk is part of Open Studio Friday, which takes place at the Studio every week.
Do you want to find out what is going on at the Pervasive Media Studio? Are you interested in meeting our residents, talking about a specific project or curious about pervasive media? Why not pack a sandwich and join us for one of our Lunchtime Talks and Open Studio Friday. Lunchtime Talks are informal presentations by Studio residents and associates. They normally take place at 1pm on Friday, are free and open to everybody who's interested in what we do. After the Talk, we also invite you to stay with us for the afternoon to continue the conversation or work on your own projects. We provide chairs, tables, wireless and a great space. You bring what you need to work with (laptop/mobile). Our open afternoons close at 5pm. Let us know if you'd like a tour of the space and we'll be happy to show you around just before the talk. Send an email to:studio@watershed.co.uk to book your place on a tour.
---
Studio themes
---