Lunchtime Talk
Fri 29 May 13:00-14:00 at YouTube Live
---
I Heard It Through The Grapevine
In this talk, Studio Residents Lily Green & Tim Kindberg take you through how Grapevine works, how you can get involved & give you an honest insight into the process of transforming an R&D project into an inclusive company. 
Speaker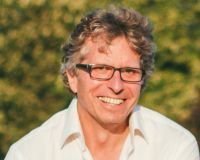 Tim Kindberg's research interests lie in applying ubiquitous and mobile computing technologies to new kinds of digital media platforms.
---
Combining workshops, making books + making podcasts to co-produce multimedia literature + events with frequently underrepresented voices
---
This Lunchtime Talk will be broadcast live on Watershed's YouTube channel
Got a way with words? How might you bring your unique wordsmithery to the world if you tell stories in local languages, or write songs with your family history, or your marginal experience isn't "on trend"? Print publishing can seem exclusive and expensive. Self-publishing online can seem like a black hole of content. What if there was an inclusive infrastructure that could host quality writing, storytelling, comedy, poetry, music and more both digitally and physically? 
Enter Grapevine, a set of tools for creative and inclusive content distribution, developed by studio residents Tim and Lily. The world's most popular messaging apps, like WhatsApp, Facebook Messenger, Signal and Telegram, are all you need to unlock digital (audio only) content from 2D physical artwork. Posters, murals, postcards, billboards, photographs and textiles: these are your new book covers.
If you'd like a demo of the first ever Grapevine prototype, please fill in this SurveyMonkey (https://www.surveymonkey.co.uk/r/YSH53SB) and the Grapevine team will send you a Grapevine-enabled postcard to try out.
Join us on Fri 29th May, 13:00-14:00 for the talk and to take part in the discussion afterwards.
---