Lunchtime Talk
Fri 21 Aug 2020 13:00-14:00 at YouTube Live
---
Breaking theatre is more fun than making theatre
In this talk, studio resident and theatre director Tanuja Amarasuriya discusses her approach of making theatre by not doing it "properly" and the idea that how we tell our stories is as important as which stories we tell.
Speaker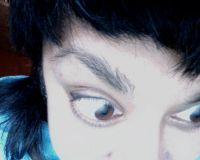 Director / dramaturg / sound designer | co-Artistic Director of Sleepdogs, a wide-ranging collaboration with Timothy X Atack | sci-fi fan | human woman
---
This Lunchtime Talk will be broadcast live on Watershed's YouTube channel
Building on Tanuja's 2017 article 'Wrong kind of Asian, wrong kind of work', this talk asks: what happens if we talk about difference in artistic, rather than statistic terms? What if we got better at valuing difference in relation to craft and aesthetics? What would that mean for who could tell stories on their own terms? Because if we want a diverse arts sector, we have to acknowledge, invite, encourage, and be fans of diverse artistic identities too.
Tanuja Amarasuriya is a director, dramaturg and sound designer working across theatre, film and digital sound. She is co-Artistic Director of Sleepdogs, a curiosity-driven collaboration with writer and composer Tim X Atack, making work that ranges from existential sci-fi theatre to electro-pop albums made entirely from field recordings. She has worked nationally and internationally with artists and companies including: Danusia Samal, Selina Thompson, Improbable, Bristol Old Vic, Seattle International Film Festival, English Heritage and Sura Medura (Sri Lanka). She is interested in making art that fires up people's imaginations, that goes deep emotionally, and that refuses to simplify human experiences or potential. She is a Pervasive Media Studio Resident and an Industry Fellow on the Bristol & Bath Creative R&D Expanded Performance Pathfinder.
Join us on Fri 21st August, 13:00-14:00 for the talk and to take part in the discussion afterwards.
---