Light Choreographies (Arts & Health)
The LEVEL Centre
"I really enjoyed being in here because it was calming and relaxing. It reminded me of the ocean, the moon and the earth orbiting the sun....It was AMAZING!" Maya, 9
---
Made by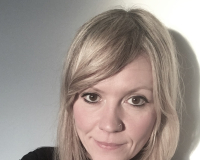 Angela is an interdisciplinary artist who employs traditional processes with creative technologies to create responsive lighting, sculpture and installation art.
---
LEVEL's work in the arts with the learning disabled community gave the Centre its name. LEVEL as a project was a unique take on using video conferencing to create a 'virtual collaboration space', where people with learning disabilities many miles apart – often isolated by nature of their resources – came together on one 'virtual stage' to participate and create work together. LEVEL continues to develop new projects, resources and tools to provide stimulating opportunities for creative engagement and its digital work continues to be the cutting edge of LEVEL, increasingly striving to create collaborations with local, national and international partners, organisations and artists to make the best art possible.
---
The LEVEL Centre is a contemporary art space enagaging learning disabled people through collaborations with local, national and international partners, organisations and artists. 
During July 2017, I was fortunate to spend a week at LEVEL to engage the LEVEL community in the Light Choreographies interactive installation, to consider the potential health benefits. 
The installation was open to participants 11-15th July with an additional public evening viewing. During this period 160 visitors experienced LC. 100 young people and adults with differences were monitored to gauge how intuitive the interface was to inform the interactive experience.
The experience was divided between participants passively experiencing the light show by observing or laying down in the space, and/or physically engaging and interacting with the sculpture, to control the position of the light. Observations included participants spending a minimum of ten minutes observing, experiencing and interacting with the light sculpture, extended to periods up to an hour. 
Feedback from visitors was positive and implied a positive user experience. Live physiological data was collected from a pulse sensor device for non-invasive heart rate monitoring. This was utilised to record and plot visitor's heart rate prior and after the Light Choreographies experience. The aim of this exercise was to explore if the experience alleviated stress and anxiety. The feedback suggested that the Light Choreographies installation can be of benefit in 2 ways; one to encourage relaxation by passively experiencing the light show and secondly, it may improve mobility by allowing participants to physically interact and control the direction of the light through movement.
One visitor enthusiastically stated:
"I really enjoyed being in here because it was calming and relaxing. It reminded me of the ocean, the moon and the earth orbiting the sun. I liked the sound louder because it's more calming. I preferred the blue ball best because it looked like the moon because it looked like there were craters on it. It was AMAZING !!!!"
Maya, a visitor to LEVEL.
---
Studio themes
---