The Question
Extant
In a pitch-black theatre, a lotus flower unfurls in the hand of its keeper. This watchful apparatus guides the audience through an unseen space, helping them to navigate sensory 'islands' through touch and sound.
---
Made by
Ad's main research deals with haptic technology (devices that interface with a user via the sense of touch) which he believes has great uncharted potential.
---
Working with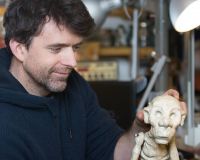 David is a co-founder and artistic director of Rusty Squid
---
Created for performing arts company Extant in 2010, this small, delicate robot provides comfort and guidance to visually-impaired and sighted alike, enabling them to share the same theatrical experience. The lotus uses robotics and infra red sensors to change its form, and by doing so gently guides the audience through the installation. Through sound, speech and touch, The Question explores the relationship between navigation, perception and knowledge; the audience wanders through a sensory adventure, free to explore and to play in the dark.
The Question, generously funded by the Technology Strategy Board, was a collaboration between Extant ( the UK's only professional performing arts company of visually impaired artists), the Battersea Arts Center in London and the computing department of the Open University. Directed by Maria Oshode in collaboration with Janet Van Der and Ad Spiers leading David McGoran and Paul O'Dwd of Rusty Squid in the design and engineering of the Haptic Lotus.
http://www.thequestion.org.uk/
---
Studio themes
---
Links
---