These Pages Fall Like Ash
Circumstance
Developed as part of REACT's Books and Print Sandbox, These Pages Fall Like Ash demonstrates the potential of interdependent storytelling between conventional, physical books and digital platforms.
---
Made by
Tom Abba is a writer and designer working with the form of digital and physical books. He is an Associate Professor of Art & Design at UWE, a Director of Circumstance, and teaches into Drawing and Print at Arnolfini.
---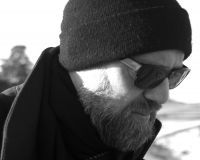 Duncan is an artist working with mobile audio in uncontrolled public and private spaces. His current PhD research is in the compositional structures of locative audio works and their relationship to current ecological debate.
---
These Pages Fall Like Ash is one story told across two books. One is a beautiful, crafted physical artefact, the other a digital text on hard drives hidden across a real city and read on your mobile device. The two books come together and provide a singular reading experience.This is about a moment when two cities overlap. They exist in the same space and time, but they aren't aware of each other. It's a tale about two people who have become separated, one in each world, about their fading memory of each other and their struggle to reconnect.
One of the cities is your own; you become part of the narrative as you travel, moving from place to place. Your version of the story becomes about you and your place in your own city, about what you would hold on to, about what you would fight to remember.
---
Studio themes
---