Tomorrow's World
StudioMADE
Awarded Creative Wales Award 2017/2018 by Arts Council of Wales
---
Made by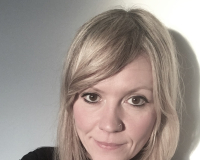 Angela is an interdisciplinary artist who employs traditional processes with creative technologies to create responsive lighting, sculpture and installation art.
---
A cross-disciplinary studio and gallery space sharing connections within art, science, nature and technology
---
Creative Wales offers Angela the opportunity for significant creative development,enabling her to work towards experimental enquiry evolving her experiences of robotics, light and optics. Angela will drive towards experimental enquiry to investigate new limits of materiality to discover where the interplay of these combined disciplines may lead her. Engaging in meaningful exchanges with mentors will support her enquiry into climate-based concerns. 
---
Studio themes
---