The World's First Magic Hack
This autumn we hosted the world's first Magic Hack at Pervasive Media Studio and we're still buzzing about it.Organised by Kieron Kirkland as part of the Magician in Residence programme, the Magic Hack brought together a fant...
---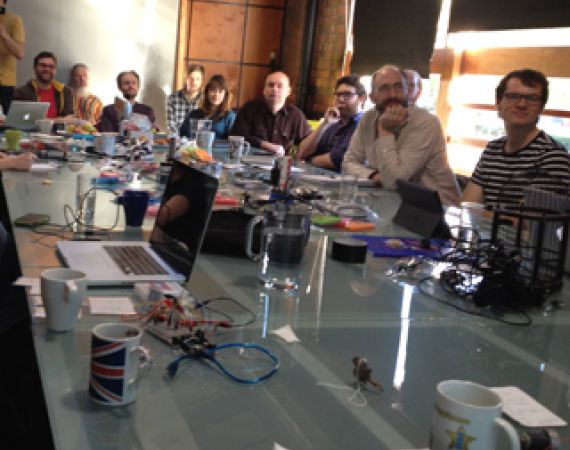 This autumn we hosted the world's first Magic Hack at Pervasive Media Studio and we're still buzzing about it.
Organised by Kieron Kirkland as part of the Magician in Residence programme, the Magic Hack brought together a fantastic group of magicians and technologists to explore what can happen when magic and tech collide. Our brilliant particiants included:
Chris Morris is a University of Bristol PhD student working on control schemes for civilian applications of Unmanned Aerial Vehicles.
Sam Fitton is a professional close up magician based in Manchester. A graduate of Lancaster University with a degree in Biology and a past spent working throughout Garden centres, Magic really was the obvious career choice. An inventive sort, improviser, bodger, builder, designer and most importantly a day dreamer. Sam's specialities include 'making it work,' basic electronics and mechanics, and devising inventive solutions.
Jarrod Knibbe is a University of Bristol PhD student working on 3D camera systems for supporting and exploiting human skill in a variety of different settings – archaeology and juggling so far. He has more software than hardware experience / skill, 'specialising' in computer vision and lightweight signal processing. Jarrod has no magical skill at all, but has been told he would make a great member of the audience.
Phill Tew is a freelance codeist and installation artist. He makes real-time computer driven installations, 3D virtual worlds and data driven visualizations but also the tools, frameworks and infrastructure that make large projects work.
Sarah Angliss is a composer, roboticist and thereminist. She performs on stage with her own automata. Her act explores the uncanny (das Unheimlich) and often takes inspiration from dark European folklore, obsolete machines and early stage magic. I'm into devising unusual couplings between gestures, sounds and mechanisms and using them to create unsettling effects on stage.
Mike Fraser is a professor at University of Bristol. He has zero magic talent, but is quite good at thinking, writing, having ideas and making stuff.
Oliver Humpage is head of ICT at Watershed. He's great with software and hardware, and can occasionally pull off a very basic trick.
Jon Armstrong is a magician, magic consultant and immersive theatre maker. He has designed magic effects for traditional, immersive and site-specific theatre, ranging from large-scale illusions to psychological and suggestion-based effects. He is co-director of Simply Told, whose work combines theatre, installation, magic and storytelling. He is also doing a practice-based PhD at the University of Sussex, looking at the application of suggestive magic techniques to the augmentation of experience.
Tarim builds installations people can play with. He writes software and does some simple hardware design (as long as it's not too analog). He's worked with micro-controllers, vibration sensors, distance sensors, RFID, motors, servos and string. He's fascinated by the psychology behind the way we all fool ourselves.
Rosie Poebright is founder and lead designer at Splash & Ripple: "Architects of Extraordinary Adventures", whose work includes citywide theatrical street games and installed adventures in castles and museums.
Sue Ann Seah is an electronic engineer by trade, but her research interest involves the human sense and perception especially how people perceive touch. She likes working with interaction devices that use a combination of senses, e.g. vision and smell or vision and touch. She has some programming skills, has worked with Arduino and can professionally do one magic trick.
Kieron Kirkland spends half his life working as a professional magician, working close up and cabaret, and the other half working with new and emerging technologies – rarely have these come together until now! He's also ludicrously excited about this hack.
Tom Mitchell is a lecturer in the department of computer science and creative technologies at UWE where he focuses on music and interactive/adaptive systems. He does a lot of coding and a bit of physical computing. He still believes in magic, so is hoping the hack will not spoil everything for him :)
Tom Melamed is a developer and founder at Calvium, where he makes apps and help people make apps. He's a mobile and web developer, and also interested in sensors and indoor location technology. He's never done a proper trick but Stuart Nolan once said he has a magical mind and he's been dining out on that ever since. Tom is also designer of street games, wearer of beards, cycler of bikes and drinker of beer.
Kev Sheldrake has an MEng in computer systems and software engineering and has spent most of his career working as an information security consultant. His day job is as a penetration tester (hacker) for BT with an interest in embedded linux devices, but he's also a director of Head Hacking, which specialises in training and performance of hypnosis and magic.
Stuart Nolan has an MSc in Cell Biology and spent the 90s working in interactive media initially as a coder of Interactive TV games, then as a producer of web, mobile and museum interactive applications. Stuart is the other Magician in Residence at Pervasive Media Studio developing IdeoBird and OuijaBird devices.
Daniel Spelmezan is a postdoc at University of Bristol. He has previously built electronic physical prototypes and sensing systems with Arduino for wearable computing and mobile devices. He also has experience in iOS programming.
Jolyon Jenkins is a radio producer by trade but also a magic inventor and magician. By chance, his inventions have tended to have fallen into the bizarre/spooky category – spirit bells, self-lighting candles etc, but also some mentalism effects. He knows a little about electronics and a small amount about programming.
Dave Allen has been a full time magician and entertainer for 12 years, performing at children's shows as Magic Dave and also as a Cabaret performer in an Illusion Act as part of a double act in a touring show. Dave is always looking for the next big idea, and coming to the Magic Hack with an open mind and lots of ideas.
Kaspar Emanuel is an Electronic Engineer and Embedded Systems Developer. His main areas of expertise are computer human interaction and music technology. For the last two years he has worked with nu-desine on the AlphaSphere.
Peter Clifford has performed all types of magic from childhood. He graduated from Drama school in Manchester in 1989 and has worked as an actor (Stage, tv, radio and short films), magician, writer, fight choreographer, magical advisor, theatre effects creator and other performance related activities. He was part of the original creative team for Derren Brown, as co-creator and co-director of the first live tour (and has appeared in a couple of the tele shows). Peter loves maths and science and works on shows which try to demonstrate true wonders of the world through perceived wonders and illusion in performance.
Kieron put together the Magic Hack to try and help magicians develop skills in technology, and help technologists think like magicians. Magicians are really creative but it's quite hard to start using technology within acts, because of the skills and knowledge needed. Likewise, technologists can potentially learn loads about types of interaction, misdirection and new contexts for technology from magicians. We're hoping that by hosting this Hack, we'll kickstart an amazing network of people, who will go on to make amazing things happen.
You can follow the Hack at hashtag #magichack. You can also see our Storify (rounding up tweets etc. from the event) below:
Kieron Kirkland and fellow resident Stuart Nolan are supported by the Magician in Residence scheme, co-hosted by Watershed's Pervasive Media Studio and The Bristol Interaction and Graphics Group in the Computer Science Department of the University of Bristol. The residency began on 1 Oct 2013 and lasts for two months, culminating in a public showcase event at Watershed in on Wednesday 4th December.
---