Aaron Hussain
Sleight of Hand
Creative Technologist & Co-Founder of Sleight of Hand, developing multi-sensory theatre experience Ergo Sum, combining live performance with visual, audio & tactile technologies to explore neurodiversity & human experience.
---
Projects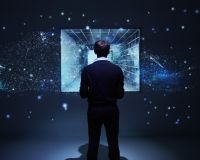 A multi-sensory event combining live performance with illusory technology, exploring neurodiversity and the kaleidoscopic nature of human experience.
---
Worked on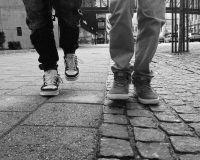 ON THE STREETS is a National Lottery funded project that tackles stigma surrounding homelessness through immersive soundscapes and storytelling.
---
Aaron is a Co-Founder of Sleight of Hand Theatre and is currenlty working on the development of "Ergo Sum", a multi-sensory, immersive theatre experience. 
Originally trained as a General Builder (That's right folks he can build almost anything, sets included!!!), he runs a constuction company based in South Devon.
However in 2009, after taking 2 years out and travelling Australia, he decided to chase a lifelong passion and study Environmental Sciences, specilising in Tropical Veterinary Sciences. Working at Paignton Zoo, for 4 years alongside the Veterinary and Research Team, he conducted studies into diet and habitat design and its effects on breeding and toxicity in Posion Arrow Dart Frogs and was involved in "The Amphibian Ark Project*, (AArk). 
Aaron also has a long history of working in live sound and in studio editing. He was a live performer and grew up working on stage, either himself or alongside other musicians in a supportitive capacity, gaining a good knowledge of sound tech and stage design and between 2004 - 2008 ran a succesful series of "Open Mic NIghts" and managed several bands.
In 2014 Aaron joined forces with Ellie Chadwick and co-founded Sleight of Hand Theatre after working on a production of Peter Brook's "The Man Who" directed by Ellie. For Aaron it was his first real experience of immersive theatre and a new love was born!!!
Areas of ....um... Interest....!!!
Sound Design, Sound Technology, Emerging Tech, Pervasive Media, Binaural Sound, Marketing and Fundraising, Public Relations, Environmental Science, Zoology and Marine Biology, Construction, Photography, Media, Journalism, Humanitarian Aid, Migrant Crisis, Anthropology. 
The AArk is a joint effort of three principal partners: the World Association of Zoos and Aquariums (WAZA), the IUCN SSC Conservation Breeding Specialist Group (CBSG), and the Amphibian Specialist Group (ASG). AArk is a partner in the Amphibian Survival Alliance (ASA).
---