Ergo Sum
Sleight of Hand
A multi-sensory event combining live performance with illusory technology, exploring neurodiversity and the kaleidoscopic nature of human experience.
---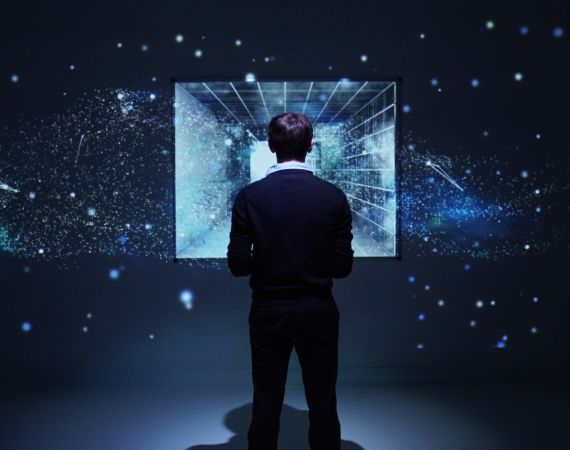 Made by
Theatre director, writer, & producer experimenting with live performance & technologies. Currently developing multi-sensory experiences 'Ergo Sum', 'Crusade', & 'On The Streets'. Postdoctoral associate at Warwick University.
---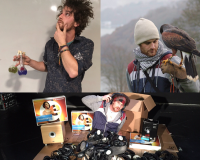 Creative Technologist & Co-Founder of Sleight of Hand, developing multi-sensory theatre experience Ergo Sum, combining live performance with visual, audio & tactile technologies to explore neurodiversity & human experience.
---
Ergo Sum is an immersive experience combining live performance with illusory, multi-sensory technology, exploring neurology, psychiatry, and the kaleidoscopic nature of human experience. Through auditory, visual, and tactile illusions created using binaural sound, projection mapping, and haptic technology, the piece immerses audience members in the minds of the characters, allowing them to experience the world in multiple different ways. 
Ergo Sum is conceived by Ellie Chadwick and began in 2015 with R&D at  Theatre Delicatessen in London, experimenting with combining binaural sound and live performance to immerse audience members in the experiences of others. The process explored the experience of having autism, of being a stroke survivor, and of schizophrenia with 3 writers (Hattie Naylor, Lynette Linton, and Jessica Burgess), consulting with people from Islington Mind, the National Autistic Society, and TLC Care Young Stroke Survivors. We also ran an outreach phase with these charities in 2015 funded by Big Lottery Awards for All. Following this we ran a workshop at the University of Warwick (funded by their Institute for Advanced Teaching and Learning), bringing together academics from theatre, philosophy and medical sciences to discuss further development of the work.
In May 2017 we ran a second stage of R&D focused on exploring psychosis, autistic sensory overload and post-traumatic stress, adding visual technologies into the mix. The process was supported by Arts Council England funding and a second residency at Theatre Delicatessen in London, and we worked with with projection mappers Limbic Cinema and choreographer Irene Cioni. We are currently in a third stage of R&D supported by Theatre Delicatessen and Barbican Labs.
Alongside the main production we are also creating a range of binaural audio and VR packages for use in empathy training for medical staff and carers, and running workshops in binaural technology and performance around the UK and abroad.
For more information please email info@sleightofhandtheatre.co.uk, or chat to Ellie or Aaron in the Studio.
For a gallery of photos from our 2017 R&D, click here!
---
Studio themes
---