James Wheale
Understory
James is an artist, poet, maker and cook whose work fuses storytelling and food. James runs Understory, a chocolate company that fuses the two great oral traditions - storytelling and eating.
---
Worked on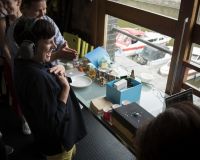 A day of exploring, experimenting and rapid prototyping with food, taste and mid-air touch
---
Fabler makes you move through stories. Literally. When you stop moving, the narrator stops reading.
---
James is an artist, poet, maker and cook whose work fuses storytelling and food. James runs Understory, an immersive dining company that creates story driven experiences with chocolate made with the world's rarest cacao. Understory were awarded the New Talent residency at the Pervasive Media Studio in 2014. Understory were supported by the Arts Council on a project developing dining consoles for a 7 course chocolate themed multimedia feast called, 'The Great Chocolate War.' Understory are also collaborating with UWE's neuroscience department, supported by CATIM labs, to research how storytelling affects flavour perception using EEG brain scanners. Most recently, in a project with studio resident Pete Bennett, Understory have won the Brigstow Award at Bristol University. 
Examples of recent Understory projects include: how music affects taste with DJ Yoda, a projection mapped chocolate giant from Don Quioxte and fortune telling with flavours at a nightclub. In April 2016 we crowdfunded a documentary, called Chocolamentary, that explores the remote canyon in Peru where the world's rarest cacao is grown. Chocolamentary will be released in early autumn. Also released in the autumn is Understory's first chocolate bar - Glittermouth, a musical chocolate bar that tells the story of a synesthete musician. The chocolate is made with mascarpone. Here's a preview of one of the tracks.
James is an award-winning poet (Edinburgh Free Fringe Slam Champion 2012, Popshot & AITU 2012, Leeds Slam Champion 2010) and has a collection out on Burning Eye Books, Maskboy, that was adapted into a short film by celebrated filmmaker Drew Cox. Alongside other studio resident Ben Gwalchmai, James was awarded the 2013 Writing Platform Bursary to develop Fabler - a motion powered storytelling app. James also wrote and directed 2.8 Hours Later for Slingshot during 2013-2014. 
james@understory.co.uk 
---
Studio themes
---
Links
---