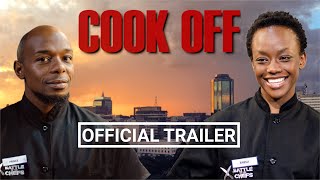 Cook Off + Craft Workshop
classified PG
Beyond Boundaries presents: Films in Your Front Room
Live stream
Please note: This live stream took place in Aug 2020
Director:

Tomas Brickhill

Cast:

Tendaiishe Chitima, Tendai Nguni, Jesese Mungoshi

Details:

101 mins, Zimbabwe

Primary language:

English
Yearning for a better life, a single mother with a passion for cooking gets a shot at greatness when her son enters her into a top reality cooking show.
A tender story about the challenges of motherhood, Tomas Lutuli Brickhill's no-budget romcom became Zimbabwe's first feature film to make it onto Netflix. With an all-Zimbabwean cast of young actors and distinguished figures in music, comedy and poetry, Cook Off is a feel-good tale of resilience and hope and a refreshing look at contemporary life in Harare, Zimbabwe.
This screening will be followed by a free Craft Workshop suitable for children of all ages at 18:50 led by Sauda Kyalambuka.
---