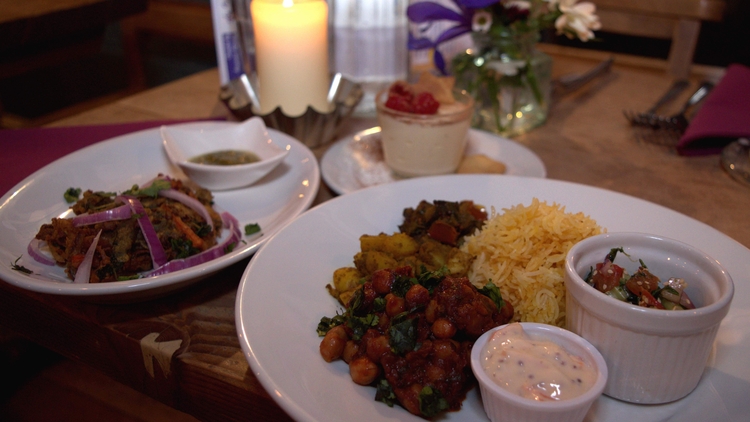 Vegan Monsoon Indian Feast
Sold Out
Summer Food Celebration
Event
Please note: This event took place in Aug 2018
Join fusion chef Anupreet Attridge on a delicious cultural, culinary journey through the food influences of East Africa and the Madhya Pradesh, Punjab and Kashmir regions in North India.
August is Monsoon season in India, a tempestuous time of drama and wonder that provides essential water for crops such as Mogo (Casava), which will be served along with dishes such as Bhopali Pilau, Dum Allo (Potato) and Rajma (Red Kidney Beans). Anupreet's three course vegan meal captures this sense of wonder as she showcases some of her most popular vegan recipes, some of which are to be included in her forthcoming cook book, 'Fuse, Cook, Eat', due for release in 2019.
Dine on such tantalising delights as chilli tofu, diced peppers and red onion in a chilli garlic sauce and butternut squash samosas as Anupreet draws on her childhood memories of cooking and eating with her family and combines it with her love of modern, locally sourced ingredients in this unforgettable vegan dining experience.

Welcome drinks:
My Indian Monsoon Cocktail, Orange Vodka, Cinnamon with Orange & Pomegranate
Minty Mango Cooler (non alcoholic), Fresh Mint, Mango & Ginger Beer with a squeeze of Lime

Starters:
Mogo (Casava) Wedges, seasoned with a paprika and cumin seasoning
Chilli Tofu, cooked in a chilli garlic sauce with diced red and green peppers and red onion
Butternut Squash Samosas, mildy spiced butternut squash and sweetcorn filling encased in a crisp pastry
Kiwi & Mint and Chilli & Turmeric Banana Chutney
Mains:
Kashmiri Dum Allo, new potatoes in a creamy tomato and fenugreek sauce
Punjabi Rajma, kidney beans in a rich tomato sauce
Carrot & Lentil Dhal, carrot with yellow lentils with flavours of ground fennel and ground turmeric
Bhopali Pillau, steamed basmati rice infused with bay leaves, cinnamon, black cardamon and garnished with roasted cashew nuts
Jewelled Raita, a mild cumin-spiced soya yoghurt dish 'jewelled' with pomegranate, spring onion and coriander
Naan bread seasoned with onion seeds
My Indian Spiced Salad, my signature salad to go with an Indian feast. A wonderful array of cucumber, heritage tomatoes, celery, red onion, radishes & carrot in a hot oil dressing

Trio of desserts:
Orange Zested Gajrela, My signature Indian carrot dessert, flavoured with cardamon, orange zest & oil and ground almonds
Raspberry Saffron 'Cheesecake', a beautiful raspberry vegan cheesecake infused with saffron on a creamy coconut crust
Mango & Cardamon Infused Kheer, Indian Mango Rice Pudding made with an infusion on bay leaves, cardamon and nutmeg
Afters:
Raspberry Chocolate, Chocolate Orange and Hazelnut Praline Chocolate Truffles
Anupreet Attridge
Anupreet Attridge is a foodie from Bristol who hosts unique pop-up dining experiences in the city such as the Harbourside Yoga Supper this summer. She also teaches Indian Cookery and is available for cookery parties, 121 classes and private chef services.
She recently demonstrated her popular Orange Zested Gajrela recipe on the Chefs Stage at the Bristol Foodies Festival and is currently writing her first cookbook 'Fuse, Cook, Eat'. She is also a regular recipe contributor for the online Health and Wellbeing magazine The Art of Healthy Living.
Find out more about Anupreet and her fantastic food via Instragram and Facebook.
Photo by Layla Sidwell of FstartPhotography
---