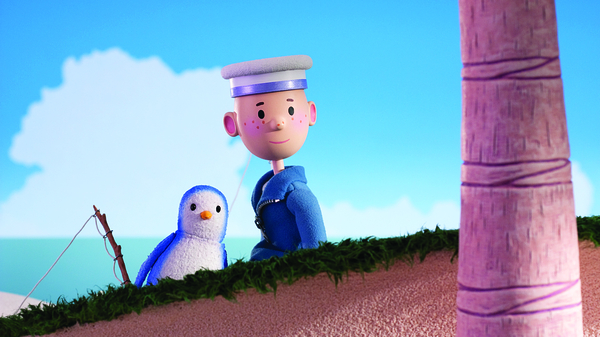 Box of Delights - Programme 1
classified U
Shorts package
Please note: This event took place in Feb 2019
Director:

Various

Cast:

Various

Details:

43 mins, 2012
Join us this half term for a selection of award-winning animated shorts chosen by the British Animation Awards for children and their families. Programme 1 has been specially selected for 4-7 year olds, while Programme 2 (Wed 20 - Sun 24 Feb) is aimed at 8-12 year olds and features a dazzling variety of animation techniques, exploring stories and themes full of creativity and humour.
This is Programme 1: eight award-wining shorts - a more cheerful collection of stories from around Europe you will not find, full of music, colour and character (and no dialogue!).
Shorts in this programme include:
A Sunny Day (Dir: Gil Alkabetz, 2007)
From rising to setting, the sun is always cheerful except when everyone hides in the shade. How ungrateful!
Whistleless (Dir: Siri Melchior, 2010)
How can one tiny bird find its voice amid the sounds and rhythms of the busy town?
Fouding or Not Fouding (Dir: Youlia Rainous, 2008)
Chop! Cut! Slice! Grate! A kaleidoscope of crazy fruit and veg to have you dancing in your seat; in French, the words 'fou' and 'dingue' mean 'crazy'!

The Little Red Plane (Dir: Charlotte Blacker, 2010)
In a world crafted of wool, the postboy and his cat fly through the clouds and stars to deliver their parcels.
Dodu the Cardboard Boy: The Balloon Moon (Dir: José Miguel Ribeiro, 2010)
With one little rip of his cardboard box, Dodu's imagination lets in the sea and sweeps him away to adventure.
Trim Time (Dir: Gil Alkabetz, 2002)
In spring and summer the tree's leaves keep the barber busy. What will they do in autumn and winter?
Mobile (Dir: Verena Fels, 2010)
Across a crowded animal mobile, a lonely cow notices a smiley mouse.
---