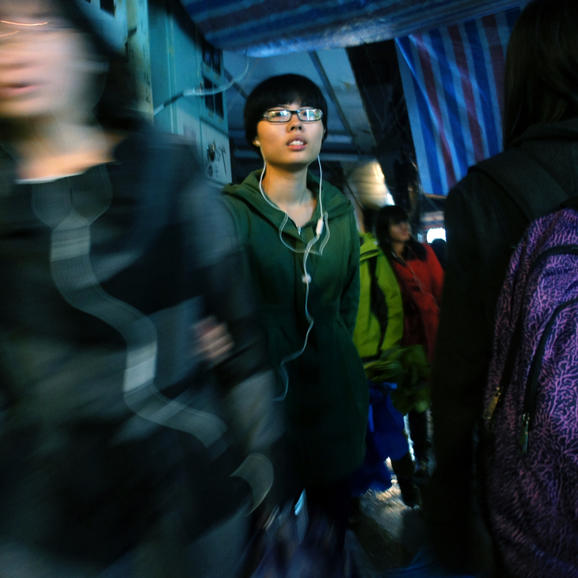 Bristol 2009/Bristol 2019: celebrating 10 years of Duncan Speakman's As If It Were The Last Time
Posted on Wed 27 Nov 2019
Ten years since its Bristol premiere, Pervasive Media Studio resident and artist Duncan Speakman is bringing his subtlemob As If It Were The Last Time back to the place where it all began – in a 2019 that is not so different from 2009…
A subtlemob is not a flashmob. It integrates with the everyday world, so only the participants are really aware of it. They receive a unique sound file (including music, instructions, and a narrative), which they listen to on headphones in a secret city centre location.
As If It Were The Last Time was Duncan's first subtlemob. He created it a decade ago as a direct response to the state of the country, and the things that worried him: the British National Party won two seats in the 2009 European election, we had just come out of a financial crisis, and there was a strange undercurrent of rising nationalism, fear of migration, and intolerance: it was a time of uncertainty and change.
From a technological point of view, smartphones had just exploded on the scene, and we all seemed to be a little more disconnected from each other – and our surroundings. At the time this is what Duncan had to say:
"I wanted it to be an opportunity to care, to pay attention to what was around us, and to the people we shared our streets with. I wanted people to rediscover lost connections."
Duncan was one of the very first residents at the Pervasive Media Studio, our research and development space, when it first opened its doors in 2008. The Studio gave him the space and support to develop As If Were The Last Time, introducing him to collaborators (and eventual fellow Studio residents) such as Action Hero, Ed Rapley, Sita Calvert Ennals and Uninvited Guests. It was also the first big project that he made in partnership with Sarah Anderson, who has gone on to work with him on his soundtracks over the past decade.
Its premiere in Bristol during a very wet November evening (it was the most rain on record that month since 1910) in 2009 was a hit: almost 300 people turned out to experience it and the response was brilliant - one audience member said:
"You felt like you were falling off a building. It was true augmented reality, and I want to take my friends and loved ones back there with me. It hurts that I can't. But that's kind of what being is, isn't it?"
Its legacy has been moving and surprising, with audiences taking elements of its music and script to remake and reuse in very different spaces. People have restaged the whole show at their weddings, or even used Duncan's words for their vows. It has gone on to travel the world, and has been translated into seven different languages (Korean, Portuguese, Mandarin, Cantonese, Dutch, Spanish and Japanese).
Duncan almost missed the 10 year anniversary. It was only after a chance revisit of the script, and noticing he could have written it last month with the state of the country right now, that he realised restaging it would be a good – and incredibly timely - idea.
"It's now 2019, and it might be said that our country is more divided and disconnected than ever. The Bristol re-staging will happen before the General Election on 12 Dec, so maybe it's a good time to take stock, to care, and to be open to each other. Can we listen and pay attention to the people around us?"
Instead of upgrading the audio, Duncan has stuck with the very same original file used 10 years ago. Of course, the technology is different nowadays – back in 2009 streaming was pretty difficult (not to mention phone network coverage was fairly poor) – now it is much easier to share and listen to content.
You can experience As If It Were The Last Time (for the first time… or maybe the second, if you were around in 2009) on Wed 11 Dec, between 18:30 – 19:00. Sign up on Duncan's website here – it's free. You will receive the location info 48 hours before the start time (it will be in a central Bristol location), instructions, and the audio file. Just arrive on time, bring headphones, and a friend (you need to experience the piece in pairs).
As If It Were The Last Time Credits:
• For Paul Walker (1979-2009)
• Written by Duncan Speakman
• Music by Sarah Anderson and Duncan Speakman
• Voices: Jess Marlowe, Jess Hoffman
• Additional musicians: Leo Smee, Laura Groves
• Devised with: Gemma Paintin, James Stenhouse, Uninvited Guests, Ed Rapley, Lucy Cassidy, Alex Bradley, Sita Calvert Ennals, Becky Hall, Tom Wainwright
• Developed at Pervasive Media Studio, Watershed.
---