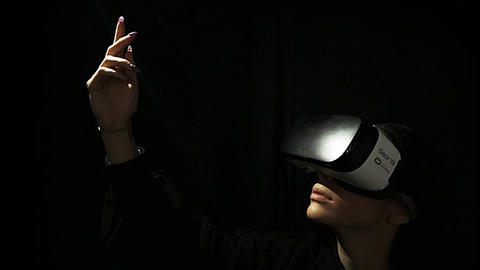 Coming soon... Layered Realities Weekend - a 5G showcase
Posted on Mon 29 Jan 2018
Exploring what difference 5G might make to culture, society and the economy
Sat 17 - Sun 18 March in Millennium Square and We The Curious
Watershed and the Smart Internet Lab at the University of Bristol invite you to experience next generation wireless connectivity (5G) through a series of free experimental events ranging from augmented reality theatre, to a virtual reality dance piece to a spectacular projected performance and a programme of critical talks and demonstrations.
We have asked artists, researchers and creatives to produce bold new works which explore the capability and potential of 5G – and in response they have created some brilliant, meaningful experiences for you to come and try out for FREE  - the full details will be published soon but here is a taste of what to expect...
From the Light of the Fire, our Dancing Shadows by Kaleider is a new social VR experience, exploring intimacy and collaboration in virtual space. Choose to watch and listen on your own headphones, or sign up to immerse yourself. Will you be a watcher or a player?
Billenium Square (After Ballard) from Uninvited Guests and Duncan Speakman will ask you to imagine possible futures for this public space. Join them for a guided tour and a walk through time, watching as  future architecture appears before your eyes and hearing what different worlds might sound like.
As night falls, Millennium Constellations from visual artist Joanie Lemercier will take you on a spectular audiovisual journey into the cosmos. Joanie, who was previously resident in Bristol with collective AntiVJ, creates extraordinary projected light pieces in galleries and public spaces all around the world. 
All of these pieces - plus the programme of demonstrations and talks - explore the creative potential of The University of Bristol's Smart Internet Lab cutting-edge 5G research.
If you want to be part of the future before it has happened (5G is due to be fully rolled out by 2020) then put the weekend of 17/18 March in your diary and come and take part. You can choose to make a day of it or just turn up for one of the experiences in the weekend's programme.
Sign up to find out more and be the first to receive all the programme details and take part in this weekend of FREE research and experimentation. We really need your help to explore and engage with the opportunities (and challenges) that the technology presents. 
5G is a reinvention of the internet for an always connected, interactive world. Above ground, it will include the next generation of wireless connectivity - offering massively increased speed, capacity and reliability compared to 3G and 4G. In addition, 5G represents a range of interconnected technologies which will supercharge the internet, offering a huge increase in bandwidth, allowing more things to connect at once, and reducing latency. This will enable near real-time interactivity across home, work and public spaces, adding up to a smarter internet where data is gathered and analysed locally as well as in the cloud. Read more about what 5G might mean in the future. 
The Bristol 5G test network is led by the Smart Internet Lab at the University of Bristol and the Layered Realities Weekender is part of this research and testing.
Register your interest
Tickets to the Layered Realities Weekend experiences and talks programme are free but tickets must be booked. Please register your interest here and as soon as the full programme details are published and available will be the first to know. 
Produced by Watershed on behalf of the Smart Internet Lab, University of Bristol. Smart Internet Lab has secured funds to establish '5GUK Test Networks' a national asset, funded by the UK Government's Department for Digital, Culture, Media and Sport (DCMS) '5GUK Test Networks'.
The Layered Realities weekend, 5G showcase brings together the University of Bristol's Smart Internet Lab and Watershed, We The Curious, BT, Nokia, Zeetta, Cambridge Communications Systems, PureLiFi and BiO.
---