Lunchtime Talk
Fri 26 Jan 2018 13:00
---
How to grow a story
Nicholas Rawling creator of, The Paper Cinema, will be joined by animation and puppetry Director Joseph Wallace, they have been developing original stories based on Rawling's illustration's for a new piece of work.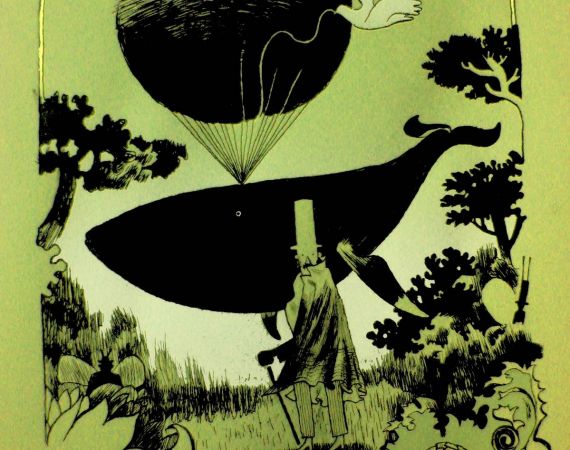 Speakers
Founded in 2004 by Nicholas Rawling with Imogen Charleston and Christopher Reed, The Paper Cinema creates unique, magical performances that combine the languages of animation, music, film and theatre.
---
Joseph Wallace is an animation and puppetry director whose short films have received international acclaim and screened at numerous festivals around the world. He has written and directed more than a dozen shorts since 2007, including puppet, object and cut-out animation as well as live-action, dance and documentary.
---
The Paper Cinema is an audio visual delight. Intricate pen and ink illustrations are skilfully manipulated in real-time in front of a video camera whilst simultaneously being projected onto the big screen. The puppeteers and musicians work together, in full view of the audience, ensuring precise choreography throughout, that is just as captivating to watch as the story, that is being played out above them.
Nicholas and Joseph will share ideas for their newest project, including storyboards, future plans and the particular challenges they are face whilst writing narrative that combines animation, music, film and theatre and a live soundtrack.
This Lunchtime Talk is presented in partnership with Bristol Old Vic Fement. It is part of Open Studio Friday, which takes place at the Studio every week.
Do you want to find out what is going on at the Pervasive Media Studio? Are you interested in meeting our residents, talking about a specific project or curious about pervasive media? Why not pack a sandwich and join us for one of our Lunchtime Talks and Open Studio Friday. Lunchtime Talks are informal presentations by Studio residents and associates. They normally take place at 1pm on Friday, are free and open to everybody who's interested in what we do. After the Talk, we also invite you to stay with us for the afternoon to continue the conversation or work on your own projects. We provide chairs, tables, wireless and a great space. You bring what you need to work with (laptop/mobile). Our open afternoons close at 5pm. Let us know if you'd like a tour of the space and we'll be happy to show you around just before the talk. Send an email to:studio@watershed.co.uk to book your place on a tour.
---
Studio themes
---