Lunchtime Talk
Fri 26 Nov 2021 13:00-14:00 at Pervasive Media Studio Event Space
---
Welcome to Utwopia
In this lunchtime talk, Studio Resident Ella Mesma shares her playful online world, and introduces her projects Papyllon & The Rainbow Butterfly which explore identity, heritage, imposter syndrome and privilege.
Speaker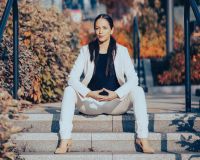 I am a curator, a facilitator, a yogi, an artist, and a director. I love dance, art, languages, lights and the world of connectivity: through technology and mind!
---
We are delighted to announce the return of in person Lunchtime Talks! Our talks will now be both in the building and streamed live, so you can join us from the comfort of the Studio or the comfort of your own screen, in your own space. 
Capacity will be limited and we are asking people to book in for the talks, if you can. Please feel free to turn up on the day, although we can't guarantee there will be a space.
Book your free ticket here.
Ella Mesma has been creating a project which combines dance, aerial, storytelling and tech. Hosted on Topia in Ella's very own world (Utwopia), Papyllon & The Rainbow Butterfly explore identity, heritage, imposter syndrome and privilege inspired by the lifecycle of the butterfly. Her world was built in collaboration with tech visionary Bryan Aldea & illustrator Jessica Rosas. Ella will be sharing her playful online world where she will eventually host the new shows, children's book, imposter syndrome course and workshops. 
Image by: Vikki Marie Page
Who is Ella?
Ella Mesma is an established professional artist with over 15 years of experience in dance, yoga, & meditation. Artistic Director of Ella Mesma Company, Maya Gandaia Ltd & co-director of award winning company Business Yoga, Ella also ran a carnaval arts company for 7 years. The published author of Journal to Joy & about to publish a second book, Mesma offers a 9 month coaching programme for creatives (The Goddxx Path) & yearly retreats to Thailand, Portugal & Morocco.
Image by: Glen Rider
As a choreographer & human, she is interested in unlearning to get back to our authentic selves, in transformation & wellbeing & in story telling; in particular putting the stories she would love to have seen growing up on stage. Her creative passions include painting, capoeira, salsa, surfing, travel & speaking languages. Of mixed heritage, born in Kent, grew up in Bristol, now based between Leeds where she studied politics, Lisbon & Bristol.
Ella Mesma began her dance career dancing salsa in Bristol, then studied under Merville Jones (a founder of Phoenix) based in Leeds before going to Brazil to study samba & aerial, where she paraded in carnaval as a passista in 2006. Ella travelled to many countries (including Denmark, Serbia, India, Turkey, Spain, South Africa) to perform and teach at salsa events and congresses. 
Image by Chris Payne
In 2009, Ella was awarded a Lisa Ullman scholarship to train with Angel Ortiz (RIP) in NYC in On2, and also attended sessions with Yamulee, Santo Rico, Eddie Torres, Magna Gopal. She has performed salsa shows with Moe Flex, Sami Rodrigues, Iris de Brito, Andrea Stewart, Miguel Gonzalez. Ella began breaking just before she began her conservatoire training at LSCD (the Place) in 2009 (& an MA in 2017).
Ella was a Dance On artist at Yorkshire Dance. She created & toured Roots of Rumba Festival (2013-2018). Performance highlights include Russell Maliphant Company, Lea Anderson (The Chomondeleys), Olympics Opening Ceremony. Ella Mesma Company have performed at theatres worldwide & Ella has been commissioned by Sadler's Wells, Manchester International Festival (Little Amal) & the National Centre for Circus. Ella has been Associate Artist at Dance City (2017), Trinity Centre Bristol (2018), Slate World (2020), Pervasive Media Studio, Pavillion Dance South West (2020-2021).
Join us, on Friday 26th November from 13:00 - 14:00 for the talk and to take part in the discussion afterwards. Come to the Studio, or join us on Youtube Here.
The Studio is wheelchair accessible, and the events space has a hearing loop. The last talk of every month is BSL interpreted. 
*Please note this is a hybrid event and will be live streamed so please be aware you will be in the live broadcast and recording when watching in the Studio.
Address:
Watershed, 1 Canon's Rd, Bristol BS1 5TX
Directions:
The Lunchtime talks take place in the Pervasive Media Studio Event Space. To access the Studio, please go to the Main Watershed Box Office entrance and go upstairs to the Café Bar. Walk across the cafe bar, turn right and walk towards the double doors. Go through into the corridor and walk all the way down until you reach the Studio. A member of staff will sign you in, and check your ticket, if you have booked.
---
Studio themes
---