Lunchtime Talk
Fri 10 Dec 2021 13:00-14:00 at YouTube Live
---
A Love Letter to Zoom Theatre
In this lunchtime talk Artistic Director Stephanie Kempson reflects on the online productions her company Sharp Teeth Theatre created over the pandemic and the lessons she's learnt trying to keep some theatre digital.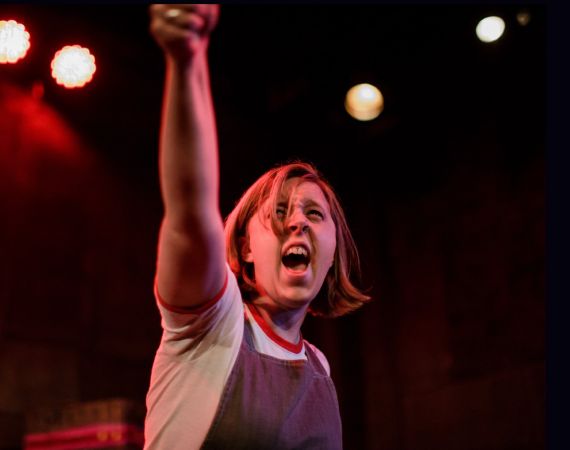 Speaker
Stephanie is a writer and dramaturg working on PECo's City of Threads podcast series, she is also a theatre director.
---
Please note we are holding our Lunchtime Talks online only for now - we are looking forward to seeing you in the building again soon.
"You're breaking up." "You're on mute." "Your connection is unstable." - Everyone on Zoom in 2020 
Over the pandemic Sharp Teeth Theatre created three online productions, which collectively played to over 30,000 people all over the world. In June 2020 they saw a murder mystery that made them really annoyed, and out of pure spite they decided to try their hand at creating something better. Their murder mystery productions Sherlock In Homes 1 and 2 (co-productions with The Wardrobe Theatre) received 5 stars in the Stage, and fabulous reviews from theatre critics and game critics. While their Interactive LGBTQ+ panto (a co-production with Tom Marshman and The Wardrobe Theatre) baffled reviewers and delighted a more local audience in lockdown 2. 
During all these productions, the company got to know Zoom intimately, and loved taking interactive theatre into people's homes. Artistic Director Stephanie Kempson has a chronic illness, and she realised during the pandemic that there were periods of time in her life where she'd very much like to see theatre from home, and that there was a significant number of people who felt the same. After opening their third online Murder mystery in November, Steph will be doing a lunchtime talk, sharing the lessons she's learned from trying to keep some theatre digital after the lockdowns. She's bringing along some of the creative team to explain why we should keep making digital theatre, and how we can make good interactive work.
Join us online on Friday 10th December at 1pm for the talk and to take part in the discussion afterwards on Youtube Live here.
The last talk of every month is BSL interpreted. 
---
Studio themes
---