Ellie Chadwick
Sleight of Hand
Theatre director, writer, & producer experimenting with live performance & technologies. Currently developing multi-sensory experiences 'Ergo Sum', 'Crusade', & 'On The Streets'. Research Fellow at Bristol University.
---
Projects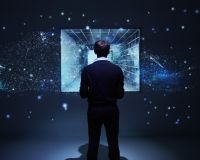 A multi-sensory event combining live performance with illusory technology, exploring neurodiversity and the kaleidoscopic nature of human experience.
---
Worked on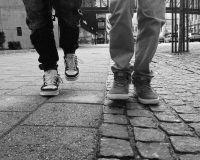 ON THE STREETS is a National Lottery funded project that tackles stigma surrounding homelessness through immersive soundscapes and storytelling.
---
Ellie is a theatre director/producer, writer, and academic whose research focuses on exploring the roots of theatre and narrative, examining a language of performance that actively engages audiences through genre-defying, multi-faceted and flexible styles of storytelling. She is a postdoctoral associate at the University of Warwick, having completed her PhD with the Theatre Studies department, and has taught undergraduate units and workshops on directorial technique, medieval and early modern theatre, theatre and science, and immersive theatre practice. Ellie is currently turning her PhD thesis into a book to be published by Routledge, titled Historically-Responsive Storytelling: How Contemporary Western Theatre is Rediscovering its Roots.
Ellie began working for Bristol University last year on Dr William Pooley's Creative Histories of Witchcraft Project, producing workshops and events exploring creative/theatrical approaches to historical research through collaboration between academics and artists. She then became a Research Fellow at Bristol University in the Theatre department, and currently is undertaking an Expanded Performance Research Fellowship with Bristol+Bath Creative R+D.
Much of Ellie's work explores interdisciplinary approaches, in particular the use of digital technologies in performance. She previously worked as Impact Officer on the Mask and Avatar project at The University of Warwick, part of a larger research project undertaken by Labex and Université Paris 8 entitled La scène augmenté (The Augmented Stage). Mask and Avatar engaged with the Perception Neuron motion capture system and involved collaboration between computer engineers, software programmers, digital designers and theatre makers; and interaction between avatars and masked actors, bringing together old and new technologies of corporeal representation.
Ellie is also interested in cross-cultural dialogue and intercultural approaches to art and education. In 2016 she launched an annual intercultural exchange programme in Bali with Avalon International Academy, and has given talks and workshops in the UK, Europe, and Asia on universal storytelling, archetype, and the use of technology in performance. In 2019 she undertook an AHRC-funded research fellowship in China at the Shanghai Theatre Academy, exploring tradition and innovation in intercultural China/UK practice, and this year she has been involved in the New Nordics Festival which involved cultural exchange via travelling to Nordic countries, and directing a Norwegian play at the Yard Theatre in London.
At the studio Ellie is focused on developing multi-sensory, experimental, theatrical experiences with Sleight of Hand, including Ergo Sum. The project has been in development since 2015, supported in London by Theatre Delicatessen and the Barbican Centre, and combines live performance with visual, audio and tactile technologies, exploring neurodiversity and the kaleidoscopic nature of human experience. Using a combination of binaural sound, projection mapping, and live performance, the work seeks to put audience members "inside the heads" of characters experiencing schizophrenia, PTSD, and autistic sensory overload, encouraging empathy and understanding.
With Sleight of Hand, Ellie is also currently producing and co-creating the immersive audio installation On the Streets: a plea for those who are homeless and vulnerable in our city. The installation will be taking over the shopping centre in Bristol in summer 2020, and is being developed in association with St Mungo's and with funding from Big Lottery Awards for All. Ellie is also working on a new theatrical exploration of racial intolerance and cultural conflict, to be developed with support from Odin Teatret's Nordisk Teaterlaboratorium.
Twitter:
@EllieChads
@SleightTheatre
Facebook:
Sleight of Hand Theatre Company London
---
Studio themes
---