Heart Robot
A puppeteer gently moves Heart Robot, cradling it like a child. Blinking slowly, it seems sleepy and shy, or wide awake and curious, drawing us to connect, to interact. Holding its hand, you feel it sense and clasp yours.
---
Made by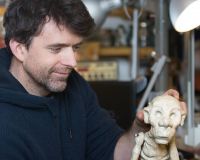 David is a co-founder and artistic director of Rusty Squid
---
Working with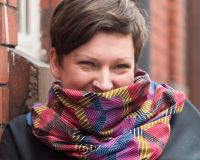 Clare is the CEO of Watershed and a Visiting Professor at University of the West of England.
---
An emotionally-believable robot, Heart Robot invites us to consider how our potential relationship with robots might evolve in future. Through the puppeteer's manipulations, autonomous reflexes and tactile interaction, this robot-puppet hybrid elicits a powerful emotional response – the result is an unexpectedly tender and addictive experience.
Heart Robot was a public engagement project inviting the public to consider a future when robots became emotionally believable.
Lead by Dr. Matt Studley and Dr.Claire rocks, Heart Robot was designed, engineered and fabricated by David McGoran, Roseanne Wakely and Paul O'Dowd of Rusty Squid in 2008. Generously funded by the EPSRC, Heart Robot was  part of the Walking With Robots initiative lead by Prof Alan Windfield from the Bristol Robotics Lab, and supported by the Watershed.
---
Studio themes
---
Links
---