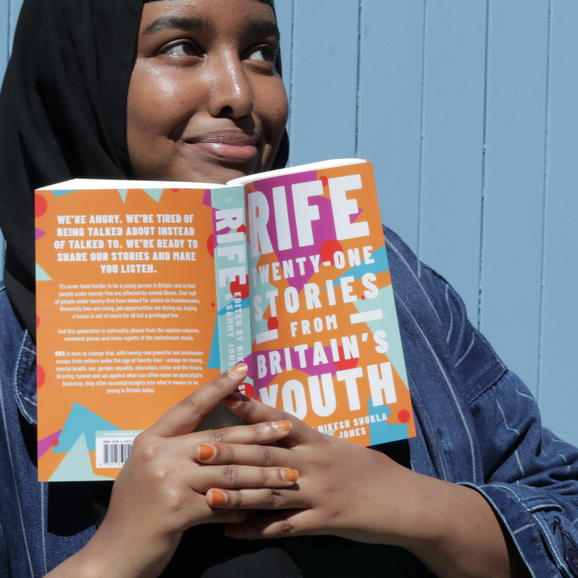 A Day for Giving?
Posted on Tue 3 Dec 2019
Forget the excesses and consumerism of Black Friday and Cyber Monday – Tue 3 Dec is #GivingTuesday, a global day of giving, the perfect antidote to the two biggest shopping days of the year.
This #GivingTuesday, help us to continue our work with young people from Bristol to have their voices heard through Rife Magazine (our online platform run by young people for young people). In return, we want to say a big thank you by giving you a chance to win a private screening of a film of your choice!
We think it's only right that we should give something back as a thank you to our ace supporters for all your support in helping us remain inclusive and support young people to have their voices heard.
As a thank you we are giving everyone who  donates  £10.00 or more before Thu 9 Jan 2020 a chance to win a great prize:  a private screening of a film of your choice for you and your family and friends.
So many of you have already supported us this year, helping Rife nurture young talent from diverse backgrounds. Thank you. If you've donated or bought Rife's first book (you can buy it from Box Office for just £9.99), it really means a lot.
Here are all the ways you can give between now and Thu 9 Jan 2020 to get yourself into the prize draw:
Donate
Set up a regular  monthly donation  or make a one off donation. It's super simple: you can donate online, in person, via Box Office or over the phone on 0117 927 6444. If your total gift is £10.00 or more you will be entered into the prize draw.
Sponsor a Cinema Seat
A brilliant way to support Watershed in addition to being a super special Christmas gift, commemoration or dedication.  Pick a seat in any of our cinemas  and decide on what message you'd like to have on your plaque – all new seat sponsors will be entered into the prize draw (who knows, you could get a chance to sit in your seat at your winning film!)
Book a cinema ticket and donate
From today until 9 Jan if you  book a ticket  for a film or event at Watershed online you'll be asked if you would like to give a donation along with your purchase. Again, anyone who donates £10.00 or more will be entered into the prize draw.
So get thinking about what your ideal film might be and who you would put on the guest list: the prize draw runs until 9 Jan so there's plenty of time to  donate  and keep your fingers crossed. Good luck!
See here for the #GivingTuesday Watershed Prize Draw 2019 Terms and Conditions.
---