Lunchtime Talk
Fri 8 Mar 2019 13:00
---
Making Mechanical Techno
For this special talk we are joined by Submerge Festival Performer and Artist, Graham Dunning. Dunning will present & demo his latest work, 'Mechanical Techno' with an opportunity to interact with the demo afterwards.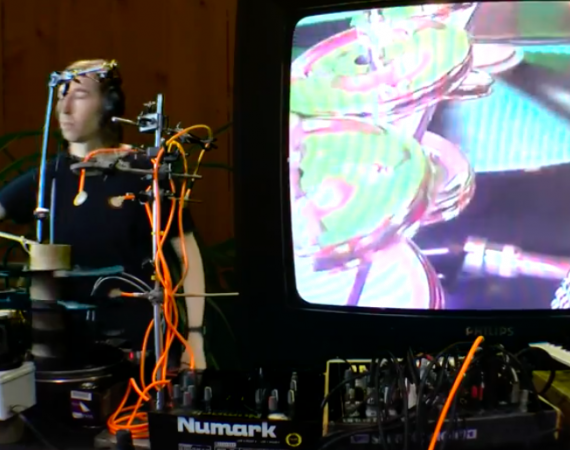 Speaker
Graham Dunning [b. 1981] is self-taught as an artist and musician having studied neither discipline academically. His live work explores sound as texture, timbre and something tactile, drawing on bedroom production, tinkering and recycling found objects. He also creates visual work, video and installations drawing on these themes. Much of the work evolves through experimentation with different processes: considering the methods by which sounds become music; process as a continuum encompassing both improvisational and procedural methods; and testing analogous processes across different media. Graham has performed solo and in ensembles across the UK, Europe and Canada, and exhibited in the UK, Europe, New Zealand and USA. He teaches Experimental Sound Art at the Mary Ward Centre in London and also gives various independent workshops. He has released through Entr'acte, Seagrave, Tombed Visions and more.
---
For this talk Artist and Musician Graham Dunning will discuss and demo his incredible 'Mechanical Techno', an installation that explores the live performance of hand crafted physical turntables. Audience members will also have the opportunity to interact and play with 'Mechanical Techno' after the talk.
Graham Dunning will be performing as part of Submerge at Tactile Sound on March 9th at Loco Club to book tickets and read more about the event go here.
This talk is part of Submerge Festival, to read more about Submerge and check out the rest of the programme go here.
This Lunchtime Talk is part of Open Studio Friday, which takes place at the Studio every week.
Do you want to find out what is going on at the Pervasive Media Studio? Are you interested in meeting our residents, talking about a specific project or curious about pervasive media? Why not pack a sandwich and join us for one of our Lunchtime Talks and Open Studio Friday. Lunchtime Talks are informal presentations by Studio residents and associates. They normally take place at 1pm on Friday, are free and open to everybody who's interested in what we do. After the Talk, we also invite you to stay with us for the afternoon to continue the conversation or work on your own projects. We provide chairs, tables, wireless and a great space. You bring what you need to work with (laptop/mobile). Our open afternoons close at 5pm. Let us know if you'd like a tour of the space and we'll be happy to show you around just before the talk. Send an email to: studio@watershed.co.uk to book your place on a tour.
---
Studio themes
---