Bookhive
Rusty Squid Ltd, UWE Bristol and Bristol Central Library
In our emerging digital and virtual age, what value does the embodied nature of our libraries and their physical books have? Rusty Squid answered this question with Bookhive. Books at play in a digital realm.
---
Made by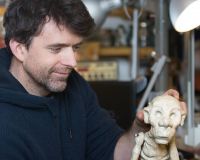 David is a co-founder and artistic director of Rusty Squid
---
Viv is a creative technology practitioner and producer working with research informed, interdisciplinary art, design and games making. Specialisms include working with technology, playful encounters and public engagement,…
---
Lining the vaults of Bristol's Central Library, four hundred robotic books inhabit the cells of a hive which seems to emerge from the fabric of the building itself. Created for the library's 400th anniversary, Bookhive merges the technology of robotics with the traditional medium of the printed book to bring the physical experience of reading to life. When people inhabit this space, a vitality emerges; they become part of something larger, more powerful than themselves. The visitor disturbs the hive, setting the books into a swarm, a moment of wonder.
Deliberately referencing beehives and the possible extinction of bees, this living sculpture reflects the library as a social creature within a changing social technological landscape. 
Lead by Creative Producer Vivienne Kuh Bookhive was a developed collectively through an integrated process between the engineers, artist and designers of Rusty Squid; David McGoran,  Sebastien Valade, Robert Stephenson and Roseanne Wakely.
Funded by the Arts Council Libraries Fund and generously supported by the Bristol City Council and Bristol Libraries. Book Hive would not have been possible without the dedication of Andrew Cox and Kate Murry.
December 2013 - march 2014
---
Studio themes
---
Links
---