Puppet Presence Rusty squid
Rusty Squid Ltd, Bristol Robotics Lab, University of Bath and Being There
What can robotic tele-presence research learn from the art of puppetry?
---
Made by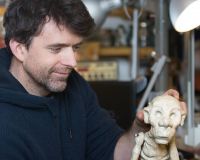 David is a co-founder and artistic director of Rusty Squid
---
Working with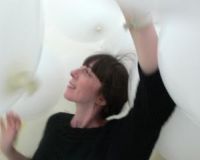 Helen graduated from UWE in 2012 with a degree in Design: Materials, Process, Context. Her work combines an interest in data collection with a fascination for transient environmental phenomena.
---
Paul Bremner from the BRL, Chris Bevan from the University of Bath and David McGoran from Rusty Squid explore this question through the fabrication of a motion capture puppet, enabling control of a Nao humanoid robot by professional puppeteers.
The puppeteers watch an individual and translate their movements onto the armature, in effect becoming a human substitute for an equivalent hardware – software tele-operating system. Data from the puppeteers input is compared with existing technology's ability to effectively interpret, and translate human motion on to robot avatars. An event is held where the public are invited to participate in the search for a trustworthy and meaningful representation of robotic avatars in public spaces.
Puppet Presence is commissioned by the Watershed's IShed CIC as part of the EPSRC funded Being There Project under its IDEAS Factory Sandpits call on "Digital Personhood". 
Puppet Presence is also generously supported by At-Bristol
http://being-there.org.uk/ 
---
Studio themes
---
Links
---