How To Build A Robot
Hazel Grian
What would happen if you found an abandoned robot alone in the streets at night Would you stop? Would you touch it and share your thoughts and vulnerabilities? And would this alter your perception of what you are?
---
Made by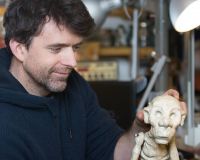 David is a co-founder and artistic director of Rusty Squid
---
Working with
Hazel is a writer currently developing a live show, which began as the VR film We Sing In Fire & Blood. With 30 yrs in the biz, mixing digital with real world, she's used a wide variety of media including robots & smell!
---
James Newton is a director who makes bold and distinctive films. With two BAFTA nominations in 2016 (Best Factual Series, and Television Craft, Director - Factual), his film, The Detectives was described as "brilliant", by The Independent, "essential viewing", by The Guardian, and "brilliantly filmed", by The Telegraph.
---
Mike Chatziapostolou
Managing Director
---
Lead Designer and Puppet engineer
---
Richard Sewell
Technical Director
---
Robert Stephenson
Lead Robotic Engineer
---
Zak Wilcox
Communications Engineer
---
Kyle Hirani
Lead systems engineer
---
Elizabeth Johnson
Fabrication Support
---
Kelly Jago
Fabrication Support
---
Gary Mclntyre
Sound designer/ engineer
---
Over the winter of 2017, a film crew from channel 4 moved into the Squid Studio for 3 months to capture a unique social experiment.
Led by creative director David McGoran, Rusty Squid is on a mission to establish an innovative design and development process that integrates robotics with art and design.
Drawing on his background in puppetry and dance, and the design magic of Disney and Pixar, the film follows David and his team as they attempt to build a robot that uses the power of motion to trigger emotions... that even strangers on the street will want to open up to.
But the real test comes when the team's robot prototypes are literally abandoned on the streets of Bristol. Programmed with a simple quest - to find out what it means to be human and to understand intimacy - this little robot films its own extraordinary adventure, as it tries to connect with humans in a whole new way.
Can Rusty Squids new approach to robotics connect with people on a primal and emotional level, and will they be brave enough to open up and tell it something about themselves?
find out what happens
Streaming Now on All 4
http://www.channel4.com/programmes/how-to-build-a-robot
Hazel was involved in the overall creative direction with David McGoran, and her main role was to create the 'voice' of the robot. This meant writing and performing hundreds of phrases and single expressions, which were matched with the AI software enabling the robot to respond autonomously in conversation with strangers. 
The complex design process was sprinted in just a couple of months. And Hazel and David worked closely together to explore an endearing creature who is not only curious about human emotions and physical behaviors but has a massive injection of humor along with the poetry.
Hazel Grian joined Rusty Squid as writer and voice artist for this very creative robot design project, filmed by James Newton and produced by Tuesday's Child.
Watch the whole design process in a few minutes How We Build A Robot 
---
Studio themes
---