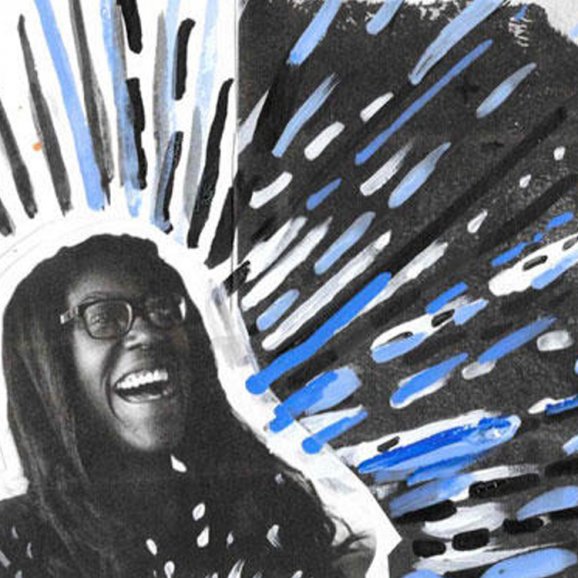 A (personally and professionally) transformative Sundance experience
Zahra Ash-Harper, Inclusion Producer at Watershed, reflects on the professional and personal lessons she has learned in 2018, particularly during her time as an observer at the Sundance Institute's New Frontier Labs Program
I'm Zahra, an Inclusion Producer for the Pervasive Media Studio and Watershed with a focus on how we can best support and retain BAME creatives in our growing community of residents. 
I want to share a story with you that started with the release of a very small and (I thought) unlikely wish that I sent into the digital ether that is Twitter: -
@KamalSinclair your work invigorates my own practice. Challenging but providing focus and balance. It's my 2018 dream to shake your hand.
My tweet thread was meant as a light-touch record for my future self and those connected to my digital networks, but quickly burgeoned with opportunity. My most wishful thinking was brought to light by an incredibly supportive professional community. 
For most of us, the end of the year can bring into focus our most hopeful reflections. I wrote last year about the challenges and joys of inclusion work at Watershed, and the end of my second year was happily no different, except that it was also accompanied by a second growth spurt of BAME representation within the PM Studio community.
It felt good to share some of the influences that had kept me open, hopeful and forward facing throughout 2017, especially in the wider context of another year of challenging cultural conversation and critique.
Seeing our BAME representation grow to 21% in two years, is progress that could begin to affirm our approach and the foundations of our practice.
However, what I had not banked on, in reaching outwards with my heart on sleeve, was that I'd be drawn into a set of experiences that would shape my next slew of learning curves. Within 3 months of sending out my wish, I was lucky enough to be hosting Kamal Sinclair in Bristol, welcoming her to Watershed and sharing her work 'Making a New Reality' with an audience that were rightly left in awe of her inclusive ambitions for the future.  
And where 2018 started decisively for me with meeting Kamal it continued to be personally and professionally transformative, with an invitation to connect with Kamal's wider remit of work as Director of Sundance Institute's New Frontier Labs Program.  
By May 2018, I had flown to Utah (USA) to attend Sundance Institute's 2018 New Frontier Lab to act as a 'Creative Observer'. Much like programmes of work undertaken in the Perviasive Media Studio, New Frontier supports artists working at the convergence of storytelling with film, art, media and technology.
But for me, the most amazing precedent set by the program is in its institutional make up - which is structurally anomalous to the UK creative technology sector.
Kamal, an African American woman working in creative technology, is part of a team of Directors at Sundance with a strong representation of women, and people of colour in creative leadership roles. Leaving only the founder of Sundance, Robert Redford, as more senior.  
Yep – THAT Robert Redford. Sundance was his creative dream, his personal investment to inspire and incubate independent, inclusive creative expression.
And my goodness, having experienced its legacy first hand, some magic and mystery is harnessed and happening at these yearly labs. 
So, here are the five things I learned professionally whilst at the lab -
Creative observing between peer organisations can lead to generous, reciprocally beneficial learnings and exchange. Although separated by an ocean, the work of the Pervasive Media Studio and New Frontier are analogous. We share contacts, interests and objectives within the sector. The opportunity to shadow, reflect and respond to the processes of peer organisations both focuses and reinvigorates the efforts of all involved.
Like many a good love affair, sometimes the right match is simple and therein lies the magic. When you design spaces for development, they should lean into accepting the uncertainty of life (and love). As one of the Creative Advisors to the Lab, Joan Twekesbury said this year,


'you learn a lot in a space with laughter – it opens up the brain to accept complexity'.

Dreams really can come true, but all dreams have a 'ground zero'? A.K.A If you don't ask you don't get. For me Sundance was a time of reverie and realisation. In almost all my free time I dreamt of playtime with new people from across all the new Sundance networks.

I learned that no one stands in the way of our dreaming, but permission to dream needs to be granted by my rational self to the more playful part of my nature (something not easily done in my case). Opening up however was always a collaborative effort, and it began with asking questions.

What exactly is a lab? What's the point of a lab? And what is a Sundance New Frontier lab? I think a lab makes space for creatives and critical friends to prod, prototype and position an idea until it feels authentically elevated. I learnt the point of a lab can be to bring together an ecosystem of people of varied personalities and experience to support creatives in the process of experimentation.

Sundance New Frontier Lab brings together 6 projects at the intersection of immersive storytelling and digital forms, represented by 12 international participants - each with an established practice. They are invited to join a 5-day creative sprint in the mountains of Utah, alongside a strong contingent of Sundance staff and 30 (plus!) Creative Advisors.

All involved bringing interdisciplinary experience from across the world. As one advisor, Mark Monroe sagely commented, the labs are a place where you can,

'be open to the accident, but attack it with intention because you have a game plan'.

Representatively inclusive tech innovation and incubation spaces offer more interesting 'origin stories'. We are just beginning to develop inclusive creative spaces and just about capturing the variety of stories that need to be shared to enable inclusive futures for all. In joining in the process with Sundance I was exposed to projects that did not follow the over experienced norm, being two men, usually white, well versed in overconfidently explaining why they were certain to win the audience over with their work. Rather, I was blown away by the intersectional representation of the cohort and the amazing stores behind their work.
Finally, three things I discovered personally:
Until I am comfortable taking opportunities I may never fully master helping others in doing the same. So many great opportunities were offered me throughout the week. But I realised that I didn't really take any of them to heart until another Creative Advisor Scott Norville, made clear this very salient point: (it's become a mantra of sorts)


'I must be brave where possible, especially if I'm to inspire others to do the same.'

Fear of utilising personal power, skills and influence don't count as 'reasonable' barriers in safe and purpose built spaces. Risk means reward. A lab can be a scavenger hunt of wonder and wiles if you let it. Ideas and story labs are sumptuous thought spaces where play and passion will see you through - even in your most indulgent or intimate revelations. Although one fears unravelling in these moments (and that can also useful), to leave and dream of what was within grasp can haunt you even more.
Finding your professional tribe benefits and builds a better personal relationship to your work. I took away from Sundance a clearer idea of where I want to be in my work over the next 5 years. The lasting benefit was being able to contrast the approach and activity of 6 (or so), other black women working in my sector, explicitly focused on inclusive futures. Not something I've experienced in the UK.
I was clearly able to map where we shared experiences and objectives, and where our differences set a new standard or perspective to learn from. The close proximity and intense environment brought camaraderie in debate, and respect in reaching understanding. We forged stronger bonds and deeper commitment to the work we do. And I was able to balance what I wish I had, with what I know I deliver. It's that confidence and critique of practice that Critical Observing of your 'professional other' can bring.
But, if this was the power of Sundance in my experience, as an observer. Imagine what it must mean to be a lab Participant. All I can add is, if you have a project and you think it's ready, go for it. You won't be the same after.
---