Black Tonic
The Other Way Works
Black Tonic is a theatre thriller in a hotel.Mysterious & visceral.Interactive theatre meets mini-break as audiences play detective in the bedrooms & corridors of a real hotel.Birmingham | Bristol | BradfordSeptember…
---
Made by
Katie Day is Artistic Director of The Other Way Works and creates playful theatre that immerses our audiences in the story. On a quest to provide magical and bespoke experiences for ever more sophisticated audiences.
---
Working with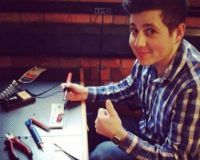 David was Creative Technologist at Watershed from end of 2013 to spring 2019.
---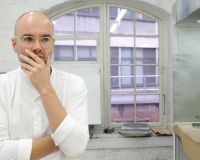 Designer. Builds physical-digital products. Discovers and maps factories in Bristol and Bath. Runs an interaction design talk chapter. Tutors on an Experience Design MA.
---
Black Tonic is a theatre thriller in a hotel.
Mysterious & visceral.
Interactive theatre meets mini-break
as audiences play detective in the bedrooms & corridors of a real hotel.
Birmingham | Bristol | Bradford
September - October 2015
The 2015 version of Black Tonic featured a number of improvements on the original (2008): a re-worked script; improved production values; a completely re-designed scene at the heart of the show with a very special mysterious card game for audiences to play (with a bespoke technological interface built in collaboration with David Haylock, Creative Technologist at Watershed in Bristol, game consultancy from Holly Gramazio, and physical design & build by Tom Metcalfe).
CREDITS
Directed by Katie Day
Text by Clare Duffy
Video by Chris Keenan
Sound by Mark Day
Scenography by Xristina Penna
Card Game Designer Holly Gramazio
Stage management by Xanthe Parker
Creative Technologist David Haylock, Watershed
Producer Thomas Wildish
Identity Design by Sebastian Harding
Scientific Collaborator Professor Debra Skene
Performed by Ali Belbin, Angela Clerkin, Rochi Rampal, Graeme Rose, and Magdalena Tuka
2015 Tour funded by Arts Council England, The Sir Barry Jackson Trust, and our Kickstarter supporters. Supported by Watershed, Theatre in the Mill Bradford, and Birmingham REP. Official 2015 hotel partners: Radisson Blu Birmingham & The Bradford Hotel.
Originally commissioned by Camden People's Theatre, and funded by a Wellcome Trust Arts Award, Arts Council England, Birmingham City Council and the Sir Barry Jackson Trust, with support from Contact Theatre, CPT and mac.
Our thanks to the creative team and casts who played key roles in developing the original production in 2008.
---
Studio themes
---
Links
---