Layered Realities
Watershed
Watershed and the Smart Internet Lab at the University of Bristol explored the potential of 5G through a series of experimental events - asking artists, researchers and creatives to produce bold new works in public space.
---
Made by
Vanessa Bellaar Spruijt is currently a producer on the MyWorld programme, a five year programme which will showcase the latest advances in digital production and research.
---
Working with
Tim Kindberg is a writer and digital creative.
---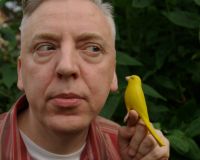 Stuart Nolan is an applied magician with a background in performance, cell biology, interactive media, experience design, programming, technology development, academic research and education.
---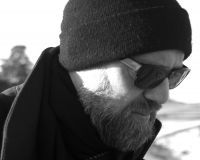 Duncan is an artist working with mobile audio in uncontrolled public and private spaces. His current PhD research is in the compositional structures of locative audio works and their relationship to current ecological debate.
---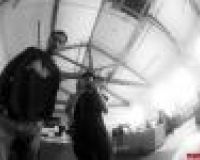 Visual artist playing with physics and philosophy through projected light to manipulate perceived reality.
---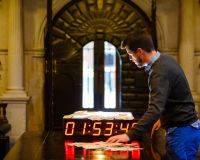 Artistic Director @kaleider | Creator of #TheMoney | Hon Fellow @UniofExeter | Board Member @reacthub & @maykithappen | Husband | Dad
---
Jen Stein is Watershed Professor of Design Futures, speculating about the near future implications of emerging technologies on people, places, and things.
---
This event happend in March 2018, the full programme is here .

Watershed and the Smart Internet Lab at the University of Bristol examined next generation wireless connectivity through a series of experimental events - asking artists, researchers and creatives to produce bold new works which explore the capability and potential of 5G.
Technology and culture are inseparable. The experiences created as part of the Layered Realities project not only explore the beauty of technology but interrogate it to explore how it might fit into the lives of real people.
We asked artists and creatives to really test its capability and potential - in response they have created some brilliant, meaningful experiences ranging from spectacular 3D-like projections, a gorgeous virtual reality dance piece, a guided tour on which you take a walk through time, and a programme of critical talks.
We also presented two of our Playable City Commissions; Stop Smile Stroll and Shadowing which play with the idea of Layered Realities and the ways technology can bring new life to our cities. 
The Bristol 5G test network was led by the Smart Internet Lab at the University of Bristol and the Layered Realities Weekender 17-18 March 2018 was part of this research and testing.
What is 5G? 5G is a reinvention of the internet for an always connected, interactive world. Above ground, it will include the next generation of wireless connectivity - offering massively increased speed, capacity and reliability compared to 3G and 4G. In addition, 5G represents a range of interconnected technologies which will supercharge the internet, offering a huge increase in bandwidth, allowing more things to connect at once, and reducing latency. This will enable near real-time interactivity across home, work and public spaces, adding up to a smarter internet where data is gathered and analysed locally as well as in the cloud. Read more about what 5G might mean in the future. 
The 5G fellowship programme: a series of critical talks about a world with 5G
Led by Tim Kindberg we are hosting a cohort of 5G Fellows, critical thinkers and makers who will share their creative responses to the impact of this new technology on our society. Read the write up from the talks. 
Tim Kindberg is a digital media technologist and founder at Matter II Media, whose products include social video platforms Vorb and Nth Screen. He acts as editorial lead on the 5G fellowships, heading up a series of workshops and advising on technical aspects of the research.
5G's dense availability and high bandwidth in city spaces will help facilitate digital experiences for crowds of people through their mobile phones. Tim asks questions including: what types of experiences can we create where people use their mobile phones en masse at the same time, and how do we design them? What are people keen - and prepared - to do together, and what type and degree of coordination is involved? Tim explores the design space and examines existing work involving sound and video. He then provides a synchronised audio experience where everyone in attendance can take part with their mobiles.
Stuart Nolan is an artist, performer and creative technologist who combines traditional disciplines of deception with innovative and questionable technology. In 2018 he is attempting to train One Thousand Mindreaders.
5G promises to connect us in ways that are seamless, that feel instantaneous, and that can involve many people at the exactly the same time. Together with the audience Stuart explores and questions the potential of 5G connections for playing with our sense of physical, mental, and emotional connection. They experiment with our sense of embodied imagination, synchronicity, touch, empathy, immediacy, and knowledge. Using their phones and simple materials they perform a compendium of short scientific rituals, questionable experiments, impossible games, and improbable actions. 
Jake Applebee co-founded Crack Magazine in Bristol in 2009, since when the magazine has grown to be one of Europe's largest music publications. He is also a director of Simple Things Festival, which has been lauded and critically acclaimed as one of the UK's premier forward-facing music events. 
Jake uses his position in the music industry to research the possibilities 5G might present – what figureheads think it'll mean, and what ideas exist on the horizon for an industry which might be on the verge of a major shift. What will the implications of 5G be for how we experience cultural events? Will it see Augmented Reality and Virtual Reality integrated into these experiences? How will live-streaming evolve with this accelerated accessibility, and what will it mean for the audiences engaging with performances in real-time? These are just some of the questions Jake asks through his fellowship.
ginger coons originally trained as a graphic designer, ginger "all-lower-case" coons is an artist, designer, and researcher. She is a longtime advocate for the conscientious and principled development and use of technology. Her work broadly spans science and technology studies, design-led research, and critical making. 
Under the auspices of an renowned yet imaginary design research consultancy, Robeson and Morris, ginger presents a research package and concept drawings for a near future which uses the capacity of 5G to facilitate privacy and equality in public space. Under the headings "Invisibility Cloaks", "Gaining Equity", and "Moving in Space", she lays out real issues which colour the existing use of ubiquitous computing, and how the capacity for larger numbers of networked devices operating in public space could exacerbate those issues in the near future. The aim of the work is to provide a mix of real concerns and whimsical but thought-provoking design responses.
Artistic commissions
Three pieces demonstrate the potential of 5G technology, looking into what is possible with the low latency of the technology and the increased capacity to connect many devices to a single network.
From the light of the fire, our dancing shadows Exploring two forms of immersion, and their relationship to our real world. You do not need to have experienced VR before in order to take part, you will be guided through a gentle, poetic VR world.
Either watch and listen to Our Dancing Shadows on your own headphones or put on the headset to immerse yourself in the lyrical interplay between light and shadow. 
Billenium Square (After Ballard) In Millennium Square, a place which marks a significant turning point in time, Uninvited Guests and Duncan Speakman will collaborate with you to imagine possible futures for this public plaza.
Join them for a guided tour, on which you walk through time, watching as science fiction architecture appears before your eyes and hearing what different worlds might sound like.The tour will end with an opportunity to design tomorrow's city and see the buildings you imagine together layered onto the Bristol of today.
Millenium Constellations A future civilization has the ability to travel across the universe. Joanie LeMercier invites you to join them on this journey, starting next to Bristol's planetarium and venturing into the heart of a black hole and back out. Joanie, who was previously resident in Bristol with collective AntiVJ, creates extraordinary projected light pieces in galleries and public spaces all around the world. 
The fantastic spectacle, projected onto a screen of water drawn from Millenium Square's pools explores the way technology modifies our perception of the world, moving between the different scales and allowing you to contemplate your place within it. The trip will end as you help create the geometric shapes that link us to the stars.
Playable City commissions
We revisit two existing works from Watershed's history, playing with the idea of Layered Realities and the ways technology can bring new life to our cities.
Shadowing (winner of Watershed's Playable City Award 2014) As the sun sets over the city, Shadowing streetlights start to capture the movements (using computer vision algorithms) of pedestrians passing beneath and echo them back as shadows to the next passerby, leaving a glimpse of those who walked the same path moments before. 
Stop Smile Stroll (Winner of Watershed's Playable City Award 2016) A playful intervention at pedestrian crossings that brings strangers together for a serendipitous shared moment – interrupting the tedium of our everyday mundane 'stop and walk' routine. An object on a traffic light invites pedestrians on either side of the street to respond to the questions "How are you feeling today?" by standing in front of the LED screen box and playing and by the end of the game (when it's almost time to cross), the screens reveal the collective mood of the moment which is celebrated during crossing time.
Produced by Watershed on behalf of the Smart Internet Lab, University of Bristol. Smart Internet Lab has secured funds to establish '5GUK Test Networks' a national asset, funded by the UK Government's Department for Digital, Culture, Media and Sport (DCMS) '5GUK Test Networks'.
The Layered Realities weekend, 5G showcase brings together the University of Bristol's Smart Internet Lab and Watershed, We The Curious, BT, Nokia, Zeetta, Cambridge Communications Systems, PureLiFi and BiO.
---
Project blog
---
Studio themes
---